Simone Biles' Parents Showed Their Support For Her In The Sweetest Way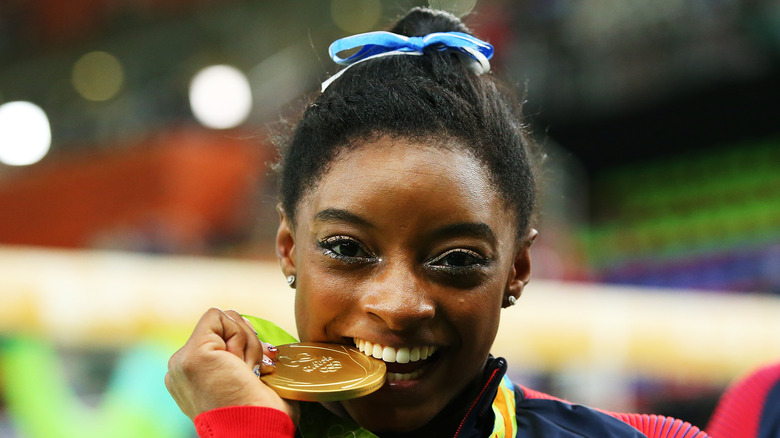 Alex Livesey/Getty Images
The incomparable Simone Biles is on top of the world right now. As People reports, the talented gymnast just qualified for the Tokyo Olympics and was enthusiastically supported by her boyfriend and fellow athlete, Jonathan Owens. He plays in the NFL and therefore has some understanding of the pressure she's facing. The five-time Olympic gold medal winner unsurprisingly made the U.S. women's gymnastics team after a stunning display at the trials on Sunday.
Owens even posted a shot of him snuggling up to Biles to his Instagram Story, wearing a red shirt emblazoned with the quote "Because I can — Simone Biles," a reference to the athlete's response when asked why she continues to keep pushing herself to do more and more complex moves. The inspirational shirt actually matched those of a couple of Biles' other big supporters, her parents, who are understandably immensely proud of what their talented daughter has achieved.
Simone Biles' parents are officially her biggest fans
Simone Biles posted a couple of sweet shots posing with her ecstatic-looking parents on Instagram. The two proudly wear their commemorative T-shirts, too. "Appreciation post for my sweet parents ❤️ thanks for making sacrifices since day 1 so I can live out my dream," the gymnast wrote. "Thanks for always being there for me through all the highs and lows." Biles' folks, Nellie and Ronald, are even giving her a double kiss in one photo. As PopSugar notes, they're actually her grandparents, having adopted the star athlete back in 2003. The kiss is meaningful, too, as the happy couple is known to share a smooch whenever Biles nails a particular move.
As Romper notes, in the Facebook Watch series "Simone vs. Herself," Nellie details how she felt when suddenly becoming a mother to Biles, her younger sister, and their two older brothers, all of whom were in foster care when she and Ronald adopted them. "I knew I had my own barriers because these were not my biological children. You do everything that's nurturing, that's mothering, but emotionally, you still have to be there 100%," Nellie said. She didn't feel the bond immediately, but, one day, Nellie understood she was truly a mother to the four. 
Sadly, the Tokyo Olympics marks the first time Biles' parents won't be there cheering her on, due to the ongoing COVID-19 pandemic. Thankfully, they can watch her from the safety of the loving home they built for Biles and her siblings.