Twitter Is Loving This Moment Between Jill Biden And The U.S. Olympic Swim Team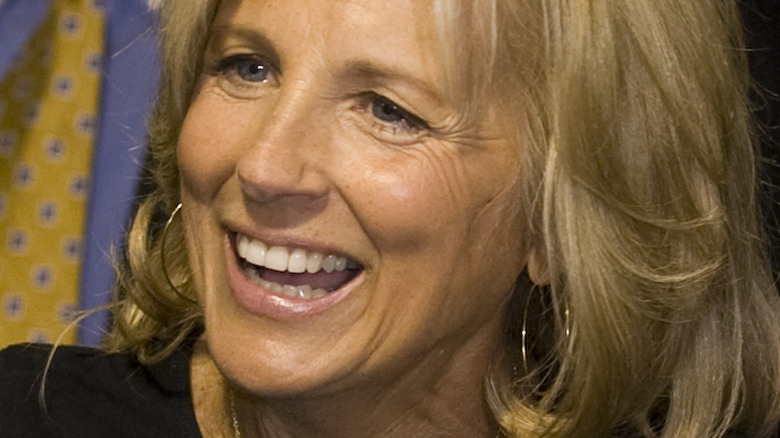 Pool/Getty Images
Dr. Jill Biden has kept an active schedule during her first year as first lady. In her first seven months, she has attended events nationwide; offered speeches on key subjects such as education, military families, and the COVID vaccine; and even sipped tea with Queen Elizabeth. Now she's proudly representing the country in her first international trip without President Biden: at the Olympic Games in Tokyo. As People reports, the first lady has been showing her support for the American athletes in various ways. 
Wearing the official Ralph Lauren Team USA ensemble — navy blue blazer, white slacks, a T-shirt with a prominent American flag, and a mask embroidered with her name — Biden remarked that she felt "like a kid on the first day of school." After attending the newest Olympic event (women's 3x3 basketball), she headed for the Tokyo Aquatics Arena to watch some of the qualifying events. (Spoiler alert: the U.S. team all made it through to the semifinals and finals, per the team Twitter account.)
There, Biden shared a sweet moment with the swimmers that was captured on video and quickly went viral. As seen here, the U.S. Swimming team notices the first lady is sitting on the opposite side of the bleachers across the pool. Led by a coach, the competitors start cheering in a rhythm familiar to sports fans: "DOC-tor BI-den! (clap-clap, clap-clap-clap) DOC-tor BI-den! (clap-clap, clap-clap-clap)." 
In response, DOC-tor BI-den stands up, waves to them, and calls, "Thank you!"
The first lady tweeted a cheer of her own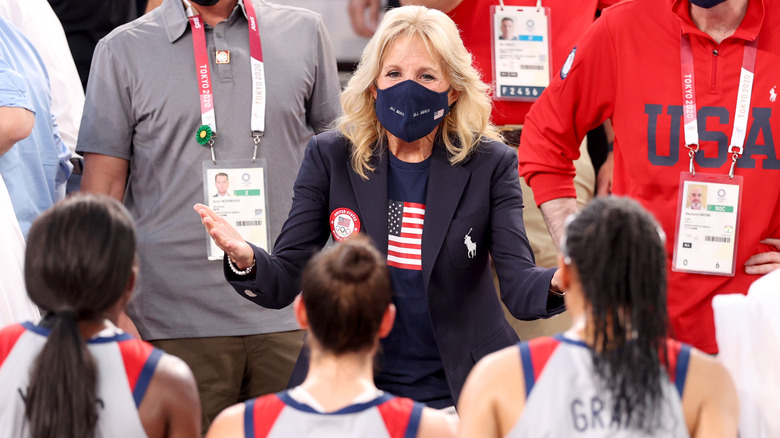 Christian Petersen/Getty Images
Proving both her graciousness and her social media savvy, Dr. Jill Biden reposted the clip to both her Instagram and Twitter accounts, captioning the moment with a cheer of her own. "Back at you @USASwimming!" she wrote. "U-S-Swimming (five "clap" emojis)." In turn, the team's official Twitter account responded, "Thank you for cheering us on!" with emojis of a double high-five and the U.S. flag.
The reaction included a few sneers, including this one from a self-proclaimed Trump loyalist. Her comment hinted that she was throwing shade at Gwen Berry for not saluting the American flag: "Biden is probably the only one cheering team usa on. Majority of Americans are passing on the Olympics this time citing petulant little brats who hate their country are perfoming [sic]."
But for the most part, the exchange largely drew approval on both platforms. "America's beloved mother, teacher, awesome sauce. How I love her," gushed one Insta follower. Another raved, "Heartfelt thanks for representing the US in Tokyo. We love you too!" A tweet of support for Dr. Biden was a not-so-subtle dig at the previous first lady, who drew fire for some of her fashion choices — like a jacket saying, "I Really Don't Care, Do U?" during her stay in the White House. "Our First Lady, appropriately dressed and showing up to support our athletes," the writer commented. "My how good it feels that honor & grace have returned to our White House."