The Truth About Whether Or Not Acid-Wash Jeans Are Back In Style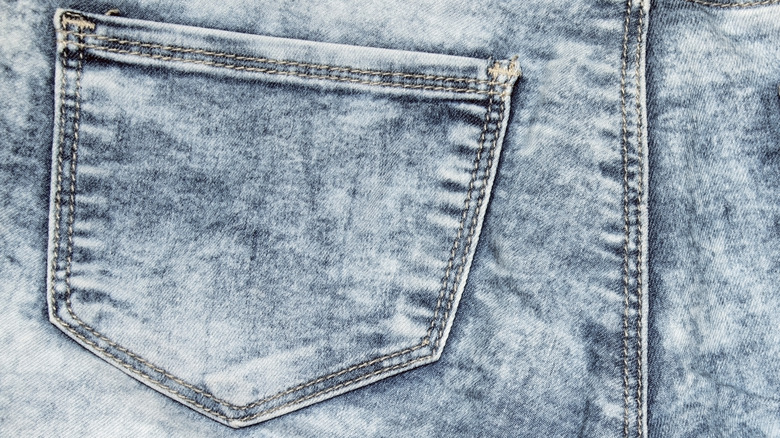 Shutterstock
This year's trends are full of controversial comebacks like baggy dad jeans and mullets. One such trend that has people divided is acid-wash jeans. According to E!, acid-wash is an oldie but goodie trend that we will be seeing more of in the coming months. Acid-wash jeans emerged from California surfer culture in the 1960s when jeans would become naturally faded from saltwater and sun exposure (via Mental Floss). The look became sought after, but the process could take years of weathering. So people started turning to bleach and muriatic acid to speed up the distressing process.
The trend especially took off in the 1980s among those in the punk scene. It was then that newer innovations came about in the distressing process, including stone-washing and the use of cellulase enzymes (via CR Fashion Book). Acid-wash jeans faded out by the '90s, but made a comeback in the early 2000s for a brief time. While the daring denim look is trending again, the fad may not last for long. So if you've ever wanted to try acid-wash jeans out, the sooner the better.
How to wear acid-wash jeans today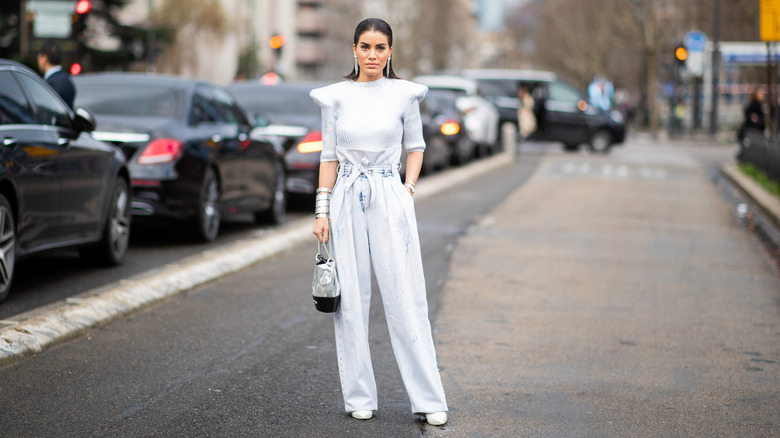 Christian Vierig/Getty Images
The key to pulling off the acid-wash trend is to go for more subtle takes, so you can avoid looking like you time-traveled from the 1980s like Marty McFly. If you are looking to make a statement, Who What Wear recommends trying acid-wash denim jackets, jumpsuits. and skirts. Fashion brands like Balmain and Chanel debuted colored acid-wash denim on the runway this year, which you can expect to see grow as a trend (via Zeitgeist). But if you want a more subtle take on acid-wash, try dark washes or gray acid-wash jeans (via Who What Wear).
Pairing acid-wash jeans with a plain white t-shirt or colorful tie-dye top can really complete the look without looking over-the-top. According to Fashion Makes Trends, it's important to pair a trendy statement piece like acid-wash denim with a classic, timeless staple. If you wear an acid-wash denim shirt, you can try pairing it with a white pencil skirt and nude pumps. Conversely, if you wear acid-wash jeans, you can try pairing it with a white button-down shirt.
Adding an acid-wash denim item to your outfit can help add an edge to your outfit whether you're dressing for work or a casual brunch. So if you haven't tried the grunge-inspired look yet, it might be worth a shot to shop around for some acid-wash jeans.