The Truth About Jill Duggar's Relationship With Joy-Anna Duggar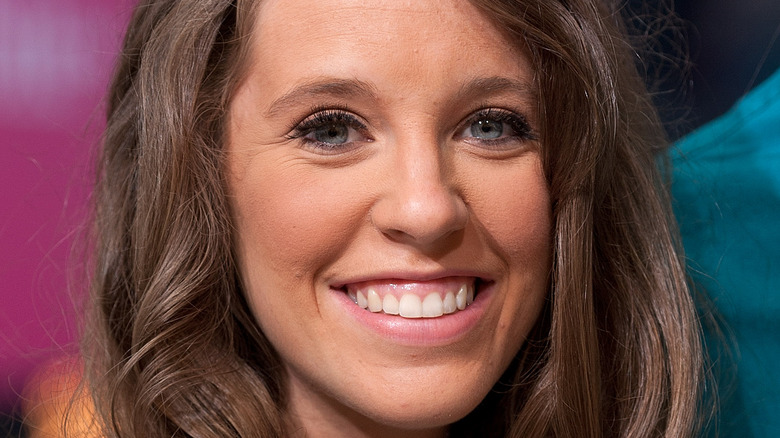 D Dipasupil/Getty Images
The Duggar family are no strangers to scandals. The family behind the hit TLC reality show, "Counting On," have worked through these scandals it seems, but it hasn't been perfect. For the first time, fans are seeing the complications in family dynamic and relationships play out in the public eye.
No member of the family has struggled with strained relationships like Jill Duggar has. She recently shared that her relationship with her parents is so complicated that they sometimes are not invited to important events like her kids' birthday parties, per The Sun. According to E! News, much of this estrangement came when she and her husband, Derrick Dillard, decided to leave "Counting On." Their choice to leave the show put a dent in her relationships with both her parents and her siblings.
Fans believe that Jill's most complicated relationship is with her sister, Joy-Anna Duggar. Joy-Anna seems to be loyal to her parents, despite everything she has been through because of them.
Jill and Joy-Anna's relationship has been questioned online
Cafe Mom shared that Joy Anna liked a shady post about her sister Jill. This post said that Jill has burned bridges and she needs to stop speaking publicly about the issues she is facing with her family members. The passive-aggressive post liking didn't end there on Joy's end. She continued to read through the post's comments and liked a few that were expressing distaste in Jill. This must have been especially hard for Jill as Joy Anna was one of her "little buddies," according to Cheat Sheet.
If you are unfamiliar with the family, the Duggar brood is made up of 19 kids. To keep an eye on all those youngsters, they have a buddy system. The older of the children will watch over a group of assigned "buddies." Jill and Joy were long-time buddies and fans of the show have often assumed they were loyal to each other. It looks as though Joy's real loyalty is to her parents.
Things seem to be improving
While things seemed rocky for these two Duggar sisters over the last few years, there may be hope for their relationship. Cafe Mom reported that not too long ago Jill shared a photo of herself in a bathing suit. Don't worry, her bathing suit was one made specifically for those who practice modesty and wasn't revealing. In Jill's comment section on the photo, Joy-Anna left a sweet note that Jill looked beautiful. Jill responded and lovingly referred to Joy as "sis." Could this be a sign that the sisters are working on their differences?
This sweet online exchange came amid their eldest brother Josh Duggar's recent arrest. Josh was arrested after the FBI raided his home on child pornography charges, per Us Weekly. TLC has since canceled the show "Counting On," a move which several of the Duggar clan support (via People). Could it be that these scandals have put the family's relationship into perspective? Fans believe that Joy and Jill could have reconciled as their family's lives are turned upside down by both their brother's arrest and the loss of their long-running TLC show, cites Cafe Mom.