Why Pink's Promise To This Norwegian Olympic Team Has Fans In A Frenzy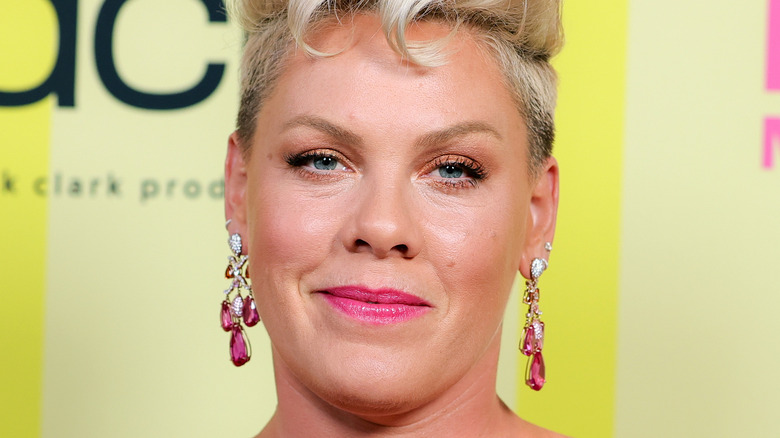 Rich Fury/Getty Images
Recently, a photo of the women's beach handball team from Norway made the rounds on social media, detailing its crusade against antiquated apparel rules. Soon after, Instagram and Twitter were in an uproar after learning that the team had been fined for refusing to compete in the bikini bottoms that female beach sports players are often required to wear. 
Indeed, CNN reports, the International Handball Federation (IHF) requires that women's teams wear bikini bottoms during competition that have a maximum side length of 3.9 inches. Plus, these bottoms must have a "close fit" and "cut on an upward angle toward the top of the leg." On the other hand, the outlet reports that the men's beach handball team has to wear shorts that lay 10 centimeters above the knee and "aren't too baggy". During their most recent game, the team opted for longer shorts that were similar to what men's handball players wear during their matches. 
In response to the controversy, Pink took to Twitter to offer to pay the team's fines from the IHF and voice her support for the movement the women have started. The outlet reports that the team faces a €1,500 (or $1,765) fine from the federation for wearing "improper clothing" during competition. 
Pink offered to pay the team's fine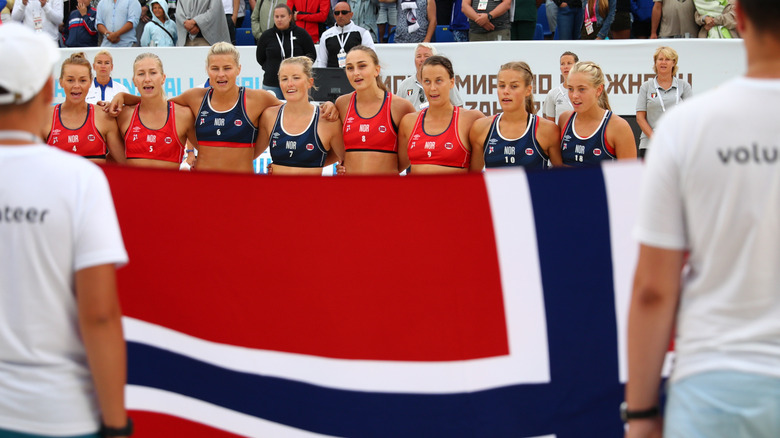 Epsilon/Getty Images
When news of their fine broke, the Norweigan team started to gain support from likely and unlikely sources — like a three-time Grammy winner. According to People, the 41-year-old rocker tweeted her support, saying, ​​"I'm VERY proud of the Norwegian female beach handball team FOR PROTESTING THE VERY SEXIST RULES ABOUT THEIR 'uniform'. The European handball federation SHOULD BE FINED FOR SEXISM. Good on ya, ladies. I'll be happy to pay your fines for you. Keep it up."
The outlet notes that the fine amounted to about $150 per teammate. But, despite the support they've received, the move to wear longer shorts wasn't part of a thought-out plan. One of the team's players, Katina Haltvik told NRK, a Norweigan news outlet, about the move, saying, "It was very spontaneous. We thought, 'Let's just do it now, and then see what happens.'"
On Instagram, Norway's Handball Federation shared their support as well. "We are very proud of these girls who are at the European Championships in beach handball. They raised their voice and told us that enough is enough. We are the Norwegian Handball Federation and we stand behind you and support you. We will continue to fight to change the international regulations for attire so that players can play in the clothing they are comfortable with."
Under the new pressure from the Norweigan team, the federation is currently reevaluating its dress code.