The Truth About Maisie Williams And Anya Taylor-Joy's Friendship
Shutterstock
Maisie Williams shot to fame as Arya Stark in the world-conquering fantasy series "Game of Thrones." In the years since the show wrapped, the British actress has branched out in the likes of "Two Weeks to Live," "The New Mutants," and "The Owners" among many others (via IMDb). 
Anya Taylor-Joy, meanwhile, who is almost exactly one year older than Williams (she was born on April 16, 1996 to the "Game of Thrones" breakout's April 15, 1997) enjoyed a different albeit no less impressive career trajectory. 
The multilingual actress's big moment came in Robert Eggers' horror debut "The Witch," and Taylor-Joy has only gone from strength to strength since, in everything from "Emma" to "The Queen's Gambit" (via IMDb). Notably, the talented ladies' paths crossed on "The New Mutants," a superhero team-up movie that was something of a spin-off, or rather companion piece, to the long-running "X-Men" franchise. It was a labor of love for all involved, but for Williams and Taylor-Joy it was also a major friendship starter.
Anya was impressed with how normal her co-star was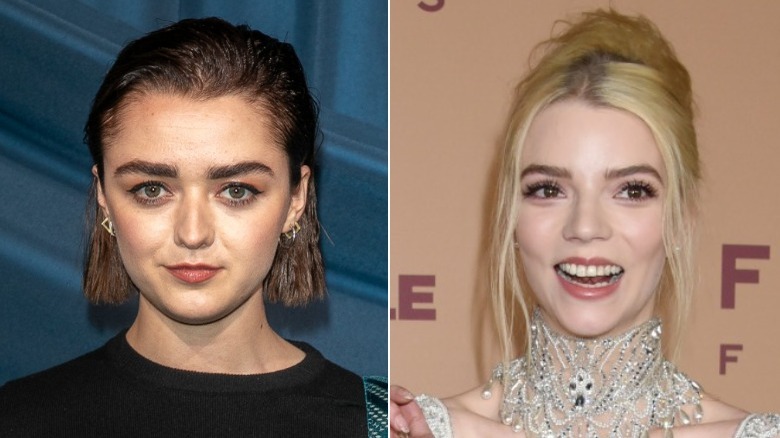 Marc Piasecki/Getty Images, Shutterstock
Speaking to People, about her time on "The New Mutants" opposite fellow young starlet Maisie Williams, Anya Taylor-Joy revealed she first came across her co-star while watching "Game of Thrones." 
Describing their working relationship, the "Queen's Gambit" star revealed, "She's very professional. She's a very, very good actress and she's very professional." Taylor-Joy also noted, with admiration, how Williams has "managed to stay down to Earth, which I think is difficult considering the show that she was on." As Screen Rant notes, "The New Mutants" was shot in 2017 but didn't actually get released until 2020, following extensive planned reshoots that never actually materialized, alongside other issues.
However, it was an especially long wait for Williams and Taylor-Joy since, as director Josh Boone shared, they were on board for over a year before the film was even greenlit and read several different versions of the script. As a result, both actresses ended up in completely different spots in their careers once "The New Mutants" finally arrived. 
As "Split" star Taylor-Joy admitted to People, it was "super trippy" watching herself back all those years later, advising, "I think everybody that's coming into their 20s, you think you're so grown up when you hit 20... I feel like I've grown up a lot since then, but it's also fun because that character was a lot of fun to play with." At least she had a good friend through it all.