The Scary Reason RHOBH's Kyle Richards Was Just Hospitalized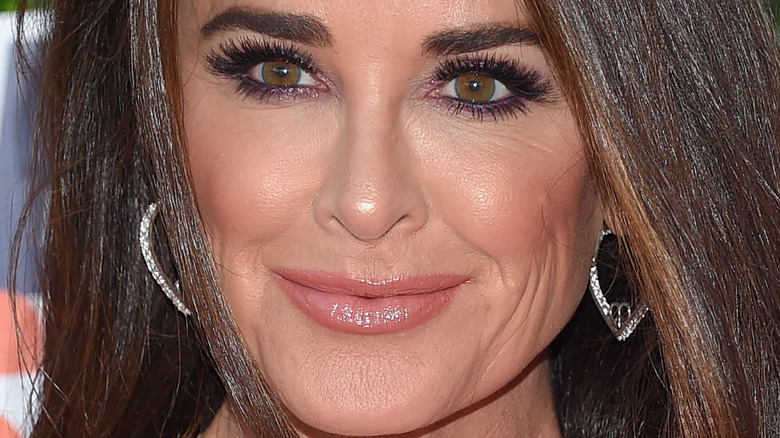 Shutterstock
"Real Housewives of Beverly Hills" star Kyle Richards is opening up about a scary accident that could have ended much worse than it did. It seems the mom of four, who is allergic to bee stings, walked into a hive of the bugs — and no one was around to help her (via Page Six).
"My family wasn't home and for whatever reason the people that work for me couldn't hear me screaming for help," Richards detailed about the incident on her Instagram Stories over the weekend. But it gets worse, with the "RHOBH" alum recounting, "My landline wouldn't dial 911 and my epi-pen was defective and wouldn't open."
On security camera footage shared to her Stories, Richards can be seen whipping her hair around in what she said was an effort to get the bees out of her hair. Eventually, the 52-year-old plunged into her pool. "I can laugh at this video now but what you can't see is that [the bees] were in my hair and were literally chasing me," the star told her fans about the terrifying experience.
Kyle Richards is sharing her story for a very important reason
In addition to assuring her fans she is okay by posting a hospital selfie — luckily Richards eventually got the help she needed — the star explained via her Instagram Stories, "I share this story with you because I sometimes don't bother to take my epi-pen with me. I also don't know why I couldn't get mine to work."
Her takeaway? "It's important to look on YouTube and watch the videos of how to use it. There are different types of epi-pens and they each work differently." Richards concluded her series of Stories by expressing gratitude to the healthcare workers who assisted her in her time of need. "Including helping me through my panic attack. And for repeatedly having to convince me there were no more bees in my hair," she joked.
Meanwhile, according to Healthline, between 5 and 7.5 percent of people are allergic to bee stings like Richards, and are at risk for suffering a serious reaction. The site also shares a resource on how to use an EpiPen in the case of an emergency.
Here's wishing Richards a speedy recovery!