The Surprising Reason Sarah Huckabee Sanders Is Encouraging Arkansas Voters To Get Vaccinated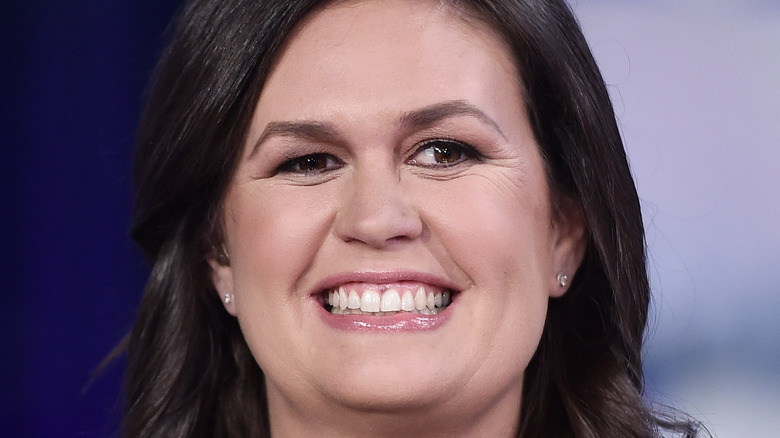 Steven Ferdman/Getty Images
If you live in the state of Arkansas and you are one of those who have yet to be vaccinated against COVID-19, gubernatorial hopeful Sarah Huckabee Sanders, daughter of former Arkansas governor Mike Huckabee, is hoping she can get you to change your mind by appealing to your sense of political loyalty. In an op-ed for The Arkansas Democrat-Gazette, the gubernatorial hopeful said she understood vaccine resistance caused by what she said was misinformation that was being generated by both the media, and by politicians who sat across the aisle from where she was. But she also said she had found a solution to her conundrum. "Based on the advice of my doctor, I determined that the benefits of getting vaccinated outweighed any potential risks," she wrote. 
There was another reason why she felt confident in getting vaccinated. "I was also reassured after President Trump and his family were vaccinated," she said. "If getting vaccinated was safe enough for them, I felt it was safe enough for me."
To further bolster her argument, Huckabee-Sanders stated a few statistics: "98 percent of covid patients currently hospitalized in our state and 99 percent of recent covid deaths were people who were not vaccinated," she said, which was proof that "the Trump vaccine works and is saving lives."
Vaccine hesitancy is highest in GOP-led states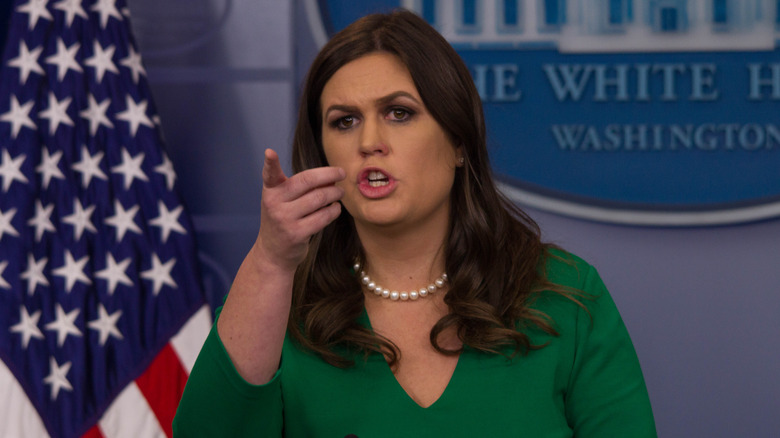 Shutterstock
Sarah Huckabee Sanders has every reason to be worried. Coronavirus data from Johns Hopkins University shows that the state's residents are testing positive at a faster rate today than they were during the same period last year and that the state and a few others like Florida and Louisiana could shoot past the COVID-19 highs seen last summer — when there was no vaccine to be had (via USA Today).
High positivity rates also mean more hospitalizations and higher death tolls. USA Today says that in mid-June, Arkansas was seeing 13 deaths due to COVID a week, and by mid-July, that number was at 56.
While it is true that the vaccines were developed under the Trump Administration's Operation Warp Speed, most of the voices who have come out against the vaccine have come from within the Republican Party. Tennessee recently put a stop to all vaccine outreach activities meant to attract adolescents, while Florida GOP governor Ron DeSantis, who started a "Don't Fauci my Florida" line of merchandise, has only recently changed his tune. Alabama's Republican governor Kay Ivey has come out to say that she didn't know what was causing vaccine hesitancy, but that "Folks [are] supposed to have common sense ... it's time to start blaming the unvaccinated folks, not the regular folks. It's the unvaccinated folks that are letting us down" (via Politico).