The Most Popular SPF That Hailey Bieber Would Approve Of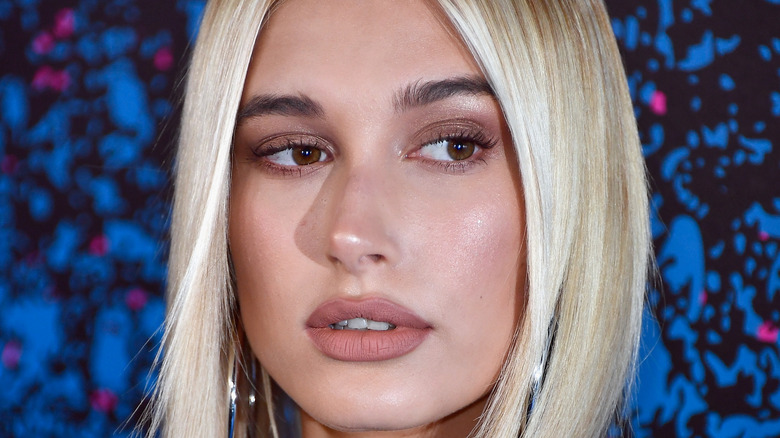 Frazer Harrison/Getty Images
We may receive a commission on purchases made from links.
There's no doubt Hailey Bieber is one of Hollywood's top it-girls: The style maven and model serves look after incredible look, even when just going to the grocery store. As per Elle, Bieber's street style is off the charts, pairing oversized suits with chunky sneakers, sleek midi dresses with strappy sandals, and gorgeous vintage-inspired shades with baguette bags. With favorite brands ranging from Nike to Khaite to Bottega Veneta (via Yahoo), it's no secret that Bieber's closet is seriously enviable, and we want to raid it stat. But we truly had no idea about her amazing skincare tips, too.
Of course, it is common knowledge that 24-year-old Bieber's skin is pretty perfect. Nary a pimple or hint of redness in sight, the socialite's complexion is poreless and always glowy. While genetics surely play a role, Bieber recently posted a skincare routine video to her YouTube channel that shows she works hard for her incredible skin. 
Now, fans are taking notice of her strategic morning routine and copping it for themselves. As the model preps for a "big work day," she gets her skin to "wake up" with the hydrating cult-fave Biologique Recherche Masque Visolastine paired with the Wander Beauty Baggage Claim Gold Under Eye Masks. Revealing that she doesn't mind looking "insane" in front of her husband, Justin Bieber, because "he loves doing masks" also, the model washes off her secret formula and follows up with an intricate skincare regime. But it's her sunscreen we're absolutely obsessing over — it's that good.
The it-girl's skincare routine
In the video filmed in her bathroom, Hailey Bieber shows it takes work to get your skin looking primed and poreless under makeup. And she's not just obsessed with skincare products. "I love facial tools, I'm obsessed with them," she says. "Give me any facial tool, I'll try anything." She uses the Zena Foster Sonic Gold Beauty Bar over her eye masks, going over the area for one minute. 
Once that's done, the model washes everything off with the hydrating Ranavat Botanics Luminous Ceremony Cream Cleanser, which she prefers over anything foamy and drying. Next is the Biba Los Angeles Plant Stem Cell & Peptide Serum and the Furtuna Skin Due Alberi Biphase Moisturizing Oil — both soothing, moisturizing products that she pairs with the vibrating Shani Darden Skin Care Facial Sculpting Wand, which she loves gifting to pals. However, Bieber reveals that the last step of her morning routine is the most important of them all. 
It's time for SPF. "I am very big on SPF," she says. "I don't leave the house without it. I don't go to work without it. Even when I'm just working from home and I'm inside the house, sun rays still hit you through the windows." Noted! So what's her sunscreen of choice? Keep reading to find out.
For Hailey Bieber, it's all about SPF
Hailey Bieber's favorite EltaMD UV Clear Tinted Face Sunscreen Broad-Spectrum SPF 46 is an oil-free, mineral-based formula that touts zinc oxide for sensitive, non-comedogenic protection. And it really works for her. "It blends into my face and my skin a little bit better" than other formulas, she explains in her video. The tinted formula works as a light foundation, and Bieber reveals just a bit goes a long way. "I know there's a lot of debate about how much sunscreen you're supposed to use... I've heard it said that it's one full teaspoon, which sounds like a lot of sunscreen to me," she says. So how much does J.B.'s wife use on the daily? Just one full pump works for her, she says, adding more in certain areas if she feels she needs more protection. A couple other Bieber-approved tips: Don't forget to apply SPF to the neck or eyelids, which will get "wrinkly one day too," she notes.
And it turns out Bieber has been recommending EltaMD's sunscreens for quite some time now: As per Who What Wear, she even posted an Instagram story about it. Holding the sunscreen out, the model wrote, "This is the only one that doesn't make my skin breakout. I'm super sensitive to sunblock." And, according to Hollywood Life, she is far from alone in her obsession. Celebs like Drew Barrymore, Mindy Kaling, and Kourtney Kardashian all swear by this SPF, too. Okay, we're convinced — adding to cart!