The Best Foundation For Your Oily Skin Makeup Routine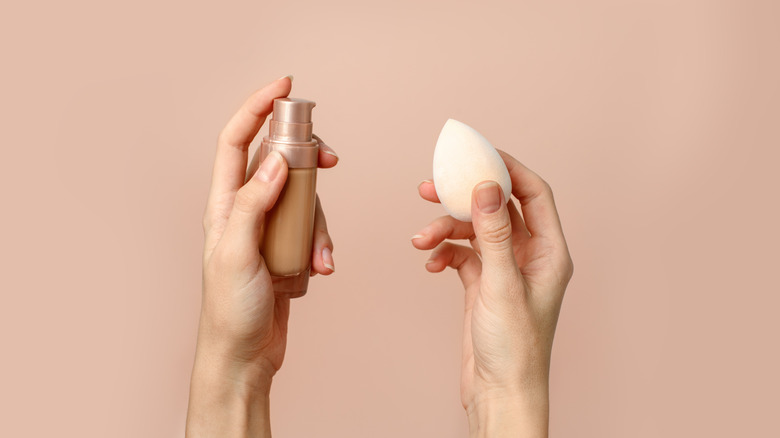 Shutterstock
We may receive a commission on purchases made from links.
Dewy skin might be on trend right now, but what if you're living with oily skin? As per Cosmopolitan, using a dewy foundation leaves those of us with oil-prone features with skin that looks visibly oily after just a few hours of wear.
The truth is that, as per Harper's Bazaar, finding the right foundation for skin that's oil-prone can be "easier said than done." This is particularly poignant when the trend of the year is dewy skin, with products designed to create a fresh, glossy look. The issue is that these kinds of products can "easily evolve into a greasy sheen on oil-prone skin" and no one wants that. 
A common misconception when it comes to foundation for oily skin is that oil-friendly foundation should be "cakey and mattifying" when that isn't the case. Believe it or not, when it comes to oil-friendly foundation formulas, there are a diverse range of options to choose from.
Warren Dowdall, senior pro artist at Bobbi Brown, explained that, "Oily skin has its own natural glow, even without makeup, so avoid overly dewy, oil-rich formulas that can look greasy and will break down on an oily skin throughout the day." 
What are the best foundation formulas for oily skin?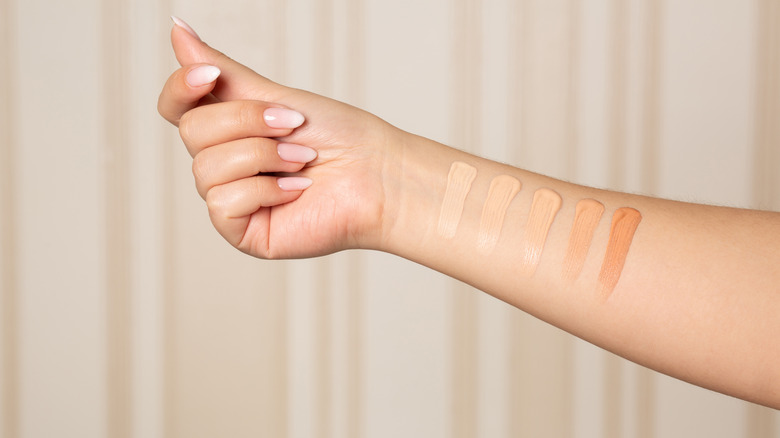 Shutterstock
When you have oily skin, it can be tough to find a foundation that works. Luckily, the experts have weighed in with their advice. As per Harper's Bazaar, Warren Dowdall explained that, "Oil-free foundations with a satin or soft matte finish look best, as many have oil-absorbing properties, as long-wearing and tend to be more buildable, which gives the option to add extra overage for breakouts if needed." Cosmopolitan reported that the best foundations for oil-prone skin are products that are "long-wearing, non-pore clogging" and will prevent your face from becoming overly shiny. That's definitely what we all need. 
Looking for something a little more universal? The NARS Soft Matte Complete Foundation is designed to work well for all skin types, offering "16-hour staying power" which makes it a great choice for anyone with oily skin. The formula is free from oil and has a matte finish, making it ideal for anyone with an oily complexion.
As per Harper's Bazaar, Charlotte Tilbury Airbrush Flawless Foundation is a great option for oil-prone skin. Offering full coverage — and a formula that is designed to mask every imperfection — it's a great option for long days. The formula is light and tends to work well on oily skin.
Another Cosmopolitan suggestion is CoverGirl TruBlend Matte Made Foundation. It's available in 40 shades and is formulated with "oil-absorbing powders" to help ensure a "shine-free finish." Plus, it's budget friendly and costs just under $8 per bottle.