The DIY Swimsuit Bottom Hack Taking Over Tiktok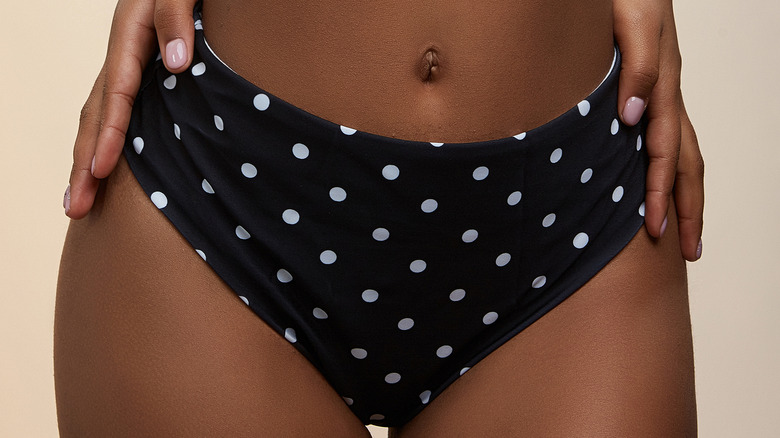 Shutterstock
You've probably only ever considered wearing your swimsuit bottoms on your lower half. Likewise, you probably typically wear the top to cover your chest. However, TikTok users regularly come up with hacks to find other creative uses for items in their wardrobe and those bikini bottoms didn't get left out. According to a report from Buzzfeed, some TikTokers have created a swimsuit bottom hack, and it involves using two bottoms to create a unique top. 
While using bottoms on top might not sound like something you're interested in trying, for some, it's a unique, new way to enjoy their swimsuit while spending time outdoors or in the pool while the weather is warm. One user with the screen name lifeoftanyamarie created a short, spirited video showing how to make this trend work — even for somebody with a larger chest. In the caption she noted she could do anything, and when it comes to this swimsuit hack, she wasn't wrong.
Here's how to style two bottoms into a bikini top
To style the bottoms into a top, you need to pick two, according to Buzzfeed. Putting on the garments can be a bit tricky. However, once you realize one arm and your torso goes through the holes while the waistband bisects your chest, you can see how the whole thing might work. According to TikToker lifeoftanyamarie, you don't need matching bottoms. In fact, the overall effect is cute without matching fabrics. 
While you might worry that this unusual TikTok hack won't be supportive enough for your chest, it looks like the right bottoms can work together to create a workable top. In her video, lifeoofanyamarie dances and jumps around dramatically proving that the creation works. Buzzfeed gave the hack a 10 out of 10 score, but if you plan to try it out, you might want to test it out at home before taking the whole thing public.