The 90210 Episodes That Meghan Markle Appeared In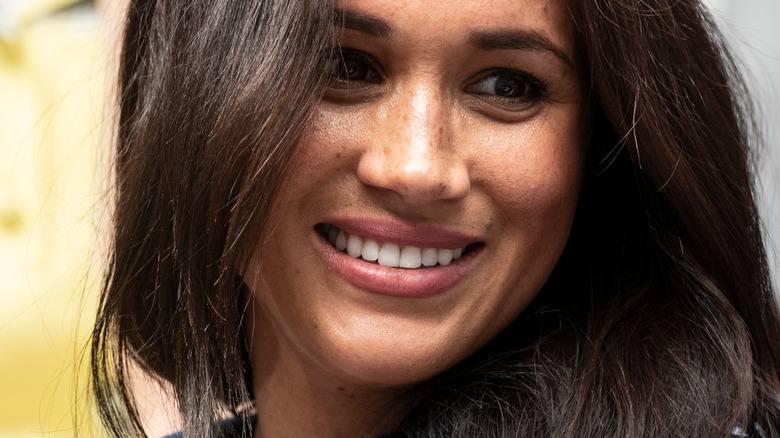 Shutterstock
Before she joined the royal family, Meghan Markle had a thriving acting career. She is probably most known for her long-standing role on "Suits," but she has appeared in a medley of well-known productions. Even the biggest fans of the royals may not remember, but Meghan Markle also appeared in episodes of "90210." Let's take a look back on her time in Beverly Hills. 
Before finding her way to Suits, Markle spent some time on The CW. She appears in two 2008 episodes of "90210" ("The Jet Set" and "We're Not in Kansas Anymore," via IMDb) in a role with no lines. While she didn't get the opportunity to make an impact with her words, the role was perhaps one of the raciest of her career. Wendy, the character portrayed by Markle, can be seen in one scene of the series premiere giving implied oral sex in a car. Markle doesn't speak in the scene, but another character asks who she is and gets the reply, "Not a chance in hell is what you call her."
Life after 90210
Chris Jackson/Getty Images
After appearing on "90210," Meghan Markle went on to find a home with the show "Suits," playing Rachel Zane. The paralegal-turned-lawyer was a key part of the show for seven seasons before she left to start her life as a royal. The role was such a large part of her life that Prince Harry visited her on set in 2017, shortly before they went public with their relationship, according to CinemaBlend. He kept a low profile and much of the cast and crew didn't even realize he was there. When news of Markle's engagement to Harry broke, the headlines were shortly followed by announcements that Markle would be leaving Suits to focus on the next stage of her life.
Life has changed a lot for Markle since her days on "90210" and "Suits," but acting is something that is still close to her heart. In 2020, she narrated a documentary on elephants for Disneynature (per Variety), so her days on screen may not be over just yet. With regal appearances and time spent with the likes of Queen Elizabeth, it's hard to imagine Markle playing a risqué role like "90210"'s "Wendy," but she is a woman as complex as the variety of roles she's played. With some space from the royal family, who knows what's next for Meghan Markle; fingers crossed it's another captivating role!