Where To Get The Exact Clothes Worn By Dorit On The Real Housewives Of Beverly Hills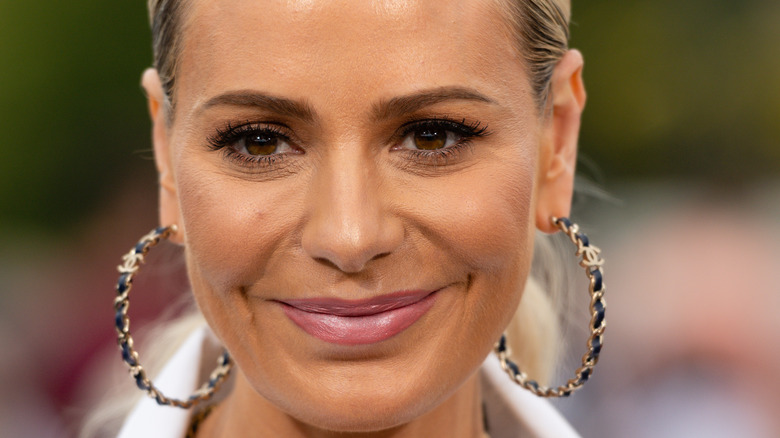 Noel Vasquez/Getty Images
Every episode and every city of "The Real Housewives" franchise shows off fashionable looks, as the ladies go out to dinner, travel, work, and attend glamorous events. Some of them, though, seem to enjoy the art of getting all dolled up a bit more than the rest ... such as Dorit Kemsley from "The Real Housewives Of Beverly Hills."
Viewers who have drooled over her stand-out ensembles these past few years can buy these exact pieces, which are listed out on a site called WornOnTV. There are casual clothes, for example, such as the Since 1854 Pajama Top and Pants by Louis Vuitton and some zebra-print sports bra and leggings by Vetements.
There are accessories, as well, since Dorit finishes out each outfit in the most perfect way, adding some extra oomph. Some of them include a patent headband with chain by Kitsch and the see-through DiorClub1 visor by Christian Dior.
WornOnTV's site lists out Dorit's accessories, dresses, and more, all seen on RHOBH
Of course, WornOnTV also features Dorit's more complex and luxurious looks on "RHOBH." This Beverly Hills housewife goes over and beyond to deliver these moments, and this site works hard to feature as many as possible.
Remember when she wore a logo print T-shirt with an asymmetric satin skirt, which were both by Versace? That iconic outfit is featured, with shoppable links. Another iconic Versace ensemble was made up of a lace-paneled blazer, leggings, a crystal-embellished belt, a gold necklace, and Medusa Safety Pin Brooches, and these are also garments fans can browse through and purchase (if/when available).
WornOnTV also lists very recent clothing items, such as the Diamond Dress by Dorit x Nektaria, a metallic one-sleeve mini dress, and the Game On Trompe L'oeil Jacquard Knit Polo Dress by Louis Vuitton, worn to Sutton's Paris-themed luncheon — both seen on this current season of this reality television series!