Megan Thee Stallion Looks Entirely Different With Her Natural Hair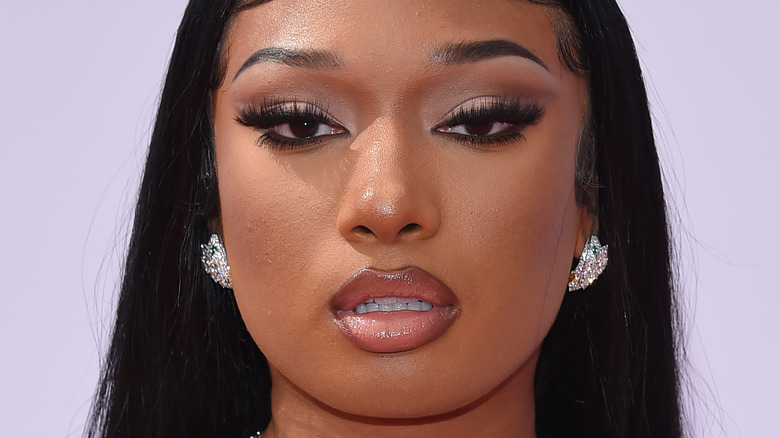 Shutterstock
Megan Thee Stallion is famous for many different things, but her biggest achievement to date might just be the creation of "Hot Girl Summer." As the Los Angeles Times explains, the term was coined in early summer 2019 and quickly went viral as hundreds of thousands of hashtags were enthusiastically logged on social media. Meg originated it on album "Fever," which includes the fiery lyric, "She's thee hot girl and she's bringing thee heat." Her Twitter name at the time, meanwhile, was "Hot Girl Meg."
As the Houston rapper tweeted, "Being a Hot Girl is about being unapologetically YOU, having fun, being confident, living YOUR truth, being the life of the party etc." She later clarified the term is not gendered, as anybody can use it to describe themselves having a good time and feeling like their best self. In the midst of celebrating "Hot Girl Summer," Meg gave fans a glimpse at her natural hair and, unsurprisingly, it was as fierce as the lady herself — maybe even more so, if that's physically possible. 
Megan Thee Stallion's natural hair is even more gorgeous
As Refinery 29 reported at the time, in August 2019, with summer wrapping up, Megan Thee Stallion proved herself to be the true embodiment of "Hot Girl Summer" by posting a video of her naturally curly hair on Instagram. "Natural ting," she captioned the since-deleted post, which quickly racked up more than 1 million likes, alongside appreciative comments from regular folk and celebrity fans alike, including Lizzo and "Basketball Wives LA" star Brooke Bailey, who gushed, "you're [sic] natural hair is beautiful." Fans were equally enthusiastic over on Twitter, with one simply writing, "THIS HAIR" while another tweeted, "Hottest out but you already knew that." Naturally, Meg posed in a flame-covered bikini to double down on her own hotness.  Elsewhere, the proud Texan posted a shot to her Stories, tagging hairstylist Jonathan Wright to demand he "come do [her] hair." Wright frequently handles Meg's most iconic looks, including floor-length wigs in a rainbow of colors. 
In March 2021, the "Savage" hit-maker took to Instagram again to update fans on her "natural hair journey," noting there was finally "some growth." The comments were once more flooded with positive reinforcement, with comedian Jasmin Brown describing Meg as "an inspiration." Essence reports the rapper is the very first global ambassador of all-natural haircare company Mielle Organics, who make affordable products for natural hair that Meg uses to keep her curls looking perfect. Considering how good she looks, choosing the original "Hot Girl" must've been a no-brainer.