The Truth About Dave Bautista's Past Steroid Controversy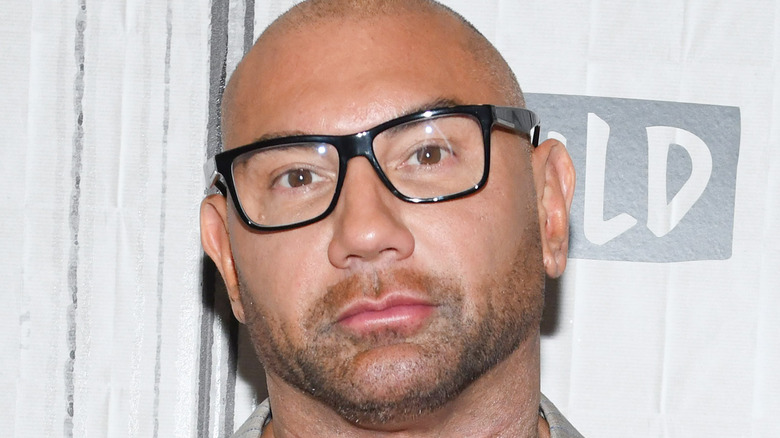 Noam Galai/Getty Images
Dave Bautista broke out as the lovable lunk who stole the show in "Guardians of the Galaxy," before spreading his wings to demonstrate his comedic skills in "Stuber," action chops in "Army of the Dead," and even tussled with James Bond himself in "Spectre" (via IMDb). The big guy is adamant about proving his worth as an actor, likely because, in the not-too-distant past, Bautista was one of the biggest stars in the WWE, frequently going toe-to-toe with the big-name likes of John Cena and The Undertaker (via Bleacher Report). 
Although the Marvel star has done plenty of big movies, as he explained to GQ, doing something like indie actioner "Bushwick," although much more challenging, provided a key opportunity "to prove to people that I was actually becoming a better actor. And to prove that to myself as well." Unlike forebears such as Cena and Dwayne "The Rock" Johnson, Bautista isn't terribly interested in rehashing his past wrestling glories. That's probably due to the fact, at one point, the well-built former athlete faced damning accusations of steroid abuse. 
Was Dave Bautista secretly suspended for using drugs?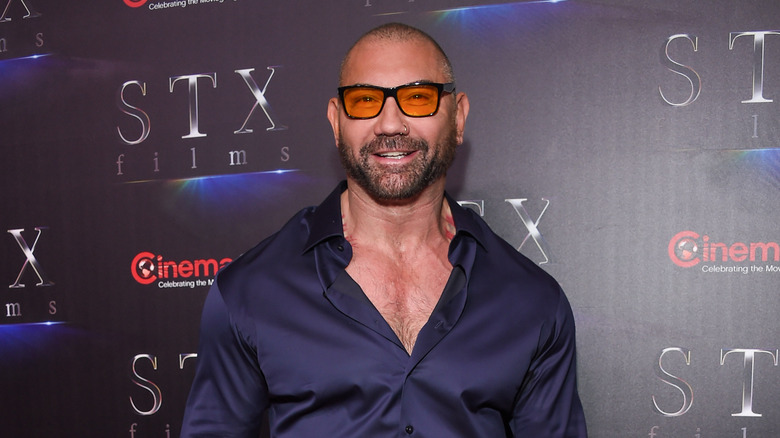 Shutterstock
The WWE has a super strict anti-steroids policy and wrestlers found to be in violation of it are frequently suspended or, in certain cases, even fired regardless of their popularity with fans. In 2007, ESPN reported that 10 of its biggest "Superstars" had been suspended for violating the company's so-called "wellness policy" following extensive investigations from the Albany, N.Y. district attorney's office about steroid abuse via online pharmacies and doctors writing phony prescriptions. Although the WWE did not release the names of the suspended wrestlers, the pharmacy in question, Signature of Orlando, included Dave Bautista among its clients. The WWE came under intense pressure to fix its medical policy after wrestler Chris Benoit murdered his wife and son in their home and was found to have a cocktail of prescription drugs in his system, including steroids. 
According to Wrestling Inc., there was speculation among wrestling commentators that Bautista was using the performance-enhancing drugs after he tore his triceps on a number of occasions — an injury reportedly common with steroid abusers, "whose disproportionate muscle mass overloads tendons." It's worth noting that one of those occasions occurred while he was out jogging with his wife. Bautista's absence due to injury was even rumored to be a cover for a suspension, particularly considering he returned to the ring looking noticeably bigger than before. However, nothing was ever proven and, as Evolutionary notes, there are plenty of guys his size and weight who are naturally very muscular without using steroids.