Why Team USA's Face Masks Have The Internet Buzzing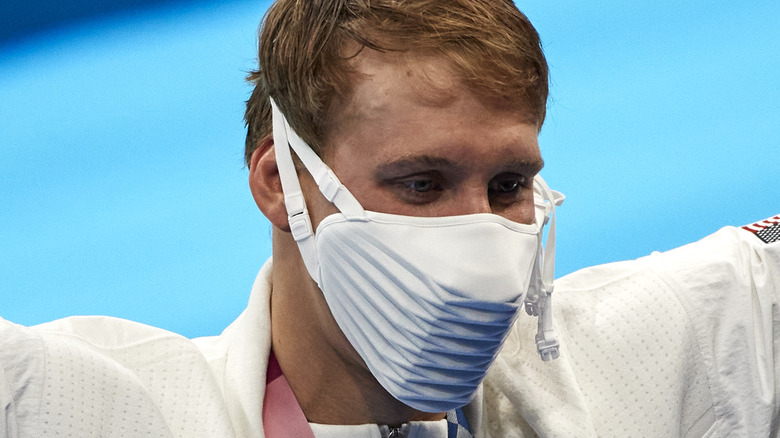 Defodi Images/Getty Images
Anyone tuning into the Olympics may have noticed something a bit odd about Team USA's face masks. To boil it down: They are distracting, and the giant, white, constructed masks remind fans of very surprising movie characters — and not the good kind!
As reported by Today, Twitter is lighting up with commentary about the athlete's face masks, comparing the look to that of villain Bane from "Batman." "The Team USA face masks look very protective and also double as Bane cosplay, I think," opined one viewer on Twitter. "What is going on with Team USA's bizarre 'Bane' face masks?" questioned another Twitter user, while someone else said, "Did Bane design Team US's face masks?"
But Bane was not the only movie bad guy people are being reminded of by American athletes' seemingly oversized personal protective gear. Indeed, someone perhaps even scarier is coming to mind for Olympic viewers.
Twitter is comparing Team USA's face masks to another iconic villian's attire
If you were thinking Team USA's face masks are reminiscent of Hannibal Lecter's look from "Silence of the Lambs," well, you are not alone. "What's with the Hannibal Lecter inspired face masks?" one Twitter user pondered. "Any one [sic] else think @TeamUSA face masks look #silenceofthelamb ish??" another person tweeted.
Beyond conjuring up comparisons to Bane and Hannibal Lecter, some Twitter users just feel the face mask, first seen when swimmer Chase Kalisz stepped up to the medal podium over the weekend, looked weird, with one person tweeting, "What's the deal with the white @TeamUSA face masks?? They're so huge and look like automotive grills" (via Olympics.com).
More than anything, it seems Olympic viewers just aren't fans of the look. "Could the USA Olympic team not afford or get their hands on some decent looking face masks?!" begged one Twitter user.
Even other countries are dragging the masks — consider that Perth Now ran a story calling them "bizarre," and "intimidating."