Inside Simone Biles And Aly Raisman's Relationship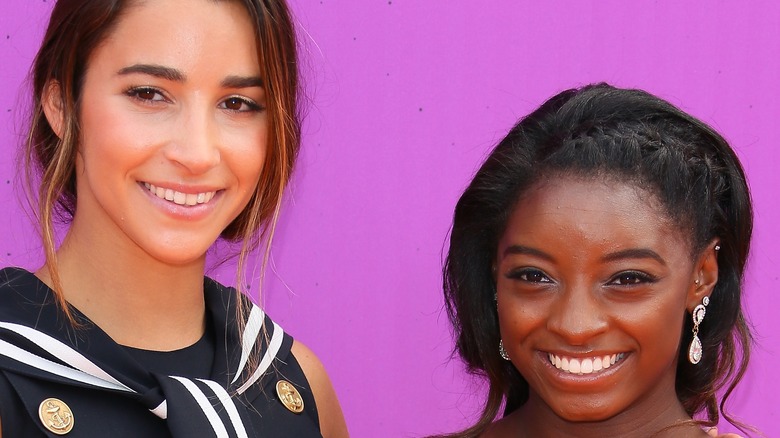 Jb Lacroix/Getty Images
Simone Biles shocked the world when she pulled out of the women's gymnastics team final at the 2020 Tokyo Olympics (via E! Online). Known as the "GOAT," Biles is a four-time gold medalist and was one of the most talked-about athletes going into the Tokoyo games. Biles competed in one team final event, but, after a mistake during her vault routine, she left the floor with her trainer. She later returned wearing her warm-up outfit in order to root on the rest of her team, which went on to compete without Biles and win a silver medal in the games. Following her exit from the team finals, Biles spoke out about the situation.
"I'm OK, just super frustrated how the night played out but super proud of these girls that stepped up and did what they needed to do, and now we're Olympic silver medalists so it's something that we'll cherish forever," Biles told Hoda Kotb on "Today." While Biles was originally thought to be suffering from an injury, she says it's her mental health that pulled her out of the team finals. "Coming to the Olympics and being head star isn't an easy feat, so we're just trying to take it one day at a time and we'll see," Biles said, adding that she's unsure if she'll compete in the individual all-around competition on July 29.
Following Biles' exit, former Team USA gymnast Aly Raisman offered some insight and kind words for Biles.
Aly Raisman weighs in on Simone Biles' Olympic exit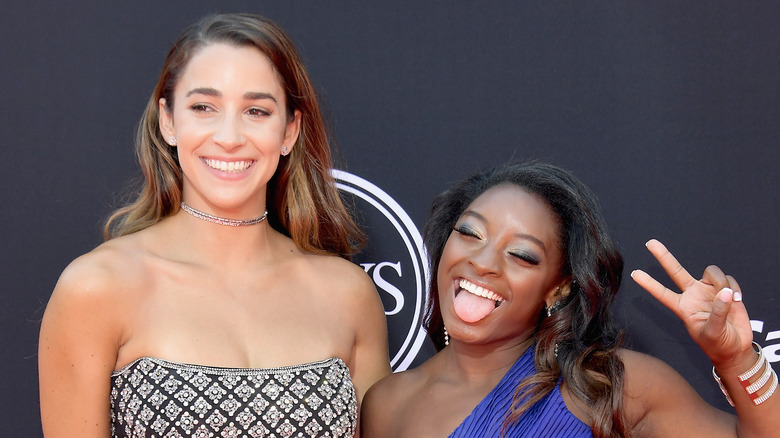 Matt Winkelmeyer/Getty Images
Aly Raisman spoke out shortly after Simone Biles exited the team finals (via Today). Raisman, a three-time gold medalist who was Biles' teammate in the 2016 Olympics, said she felt "sick" about her friend leaving the competition. "It's horrible," she said. "I know that all of these athletes dream of this moment for their whole entire lives, and so I'm just completely devastated. I am obviously so worried and just hoping that Simone is OK."
Biles and Raisman obviously have a strong bond and both understand the pressure of competing on the Olympic stage. Although they're no longer teammates, the two stay in touch. Back in January, Raisman told E! Online that she'd been cheering on Biles as she prepared for the Tokoyo games. "I know she's working super hard," she said. "We actually texted the other day so we definitely keep in touch. It's been awhile since we've seen each other, obviously, because of COVID, but I look forward to seeing her and my other teammates and gymnasts whenever things are safe again."
Fans are offering their support to Biles following her Olympic exit, and it appears that the gymnast also has a friend to lean on in Raisman.