Inside Simone Biles And Hoda Kotb's Relationship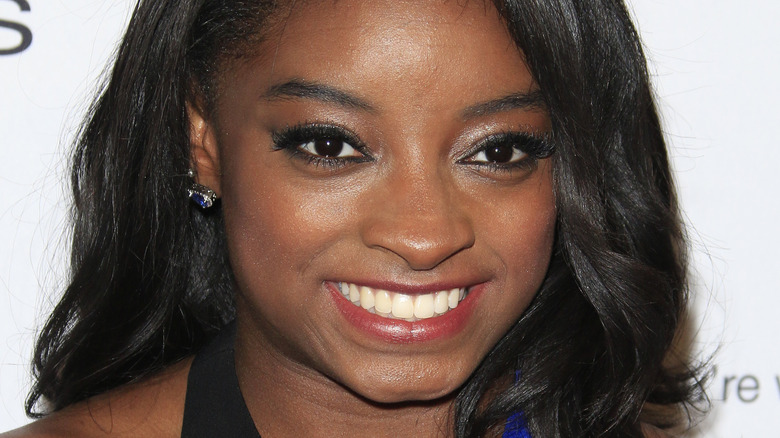 Shutterstock
Because NBC maintains complete coverage of the Olympic games, the network's hosts can form special bonds with the athletes they closely follow and interview every four years. This is certainly true for NBC's Hoda Kotb and the best female gymnast of all time, Simone Biles. While competing in the 2020 summer games, the 24-year-old gymnast recently dropped out of the team finals on account of an injury. Throughout the heartbreaking moment, Kotb was by her side.
The first news anchor she spoke to following the announcement was Kotb, Fox8 reports. Biles explained, "Physically, I feel good. Emotionally it varies on the time and moment. Coming to the Olympics and being head star isn't an easy feat. So we're just trying to take it one day at a time and we'll see."
According to the outlet, Biles was set to perform her best event for the team finals — the vault. However, in mid-air, she seemed to change what she planned to do. Instead of a full two and a half twists, she did one and a half — a move that may have forced her to withdraw from the competition. Currently, it's unclear whether or not she'll be back later in the week to defend her individual all-around champion title.
Hoda Kotb cheered on Team US from the sidelines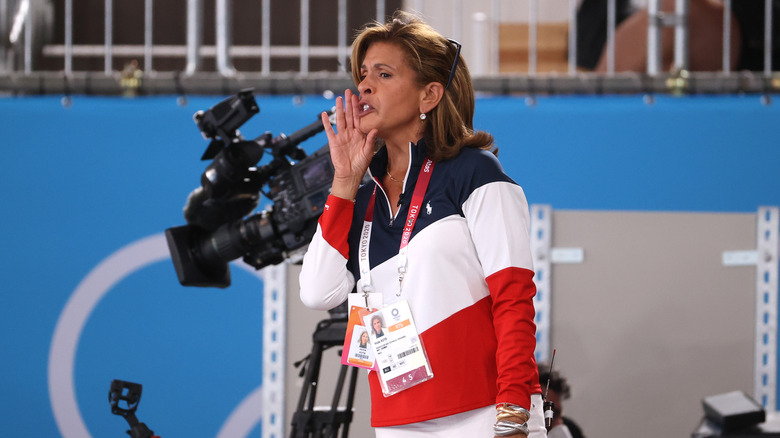 Abbie Parr/Getty Images
Following Biles' exit, the news anchor showed her support for the rest of the United States gymnastics team at the arena in Tokyo. Today reports that Kotb yelled, "Turn it out for Simone," towards the floor where the other three gymnasts were performing. She blew kisses towards them and finished with cheers for the three newcomers, "Love you Suni and Jordan and Grace, too. Go get 'em!"
Kotb, looking distraught, looked onto the floor with obvious sadness over Biles' absence. She then said to the camera, "Team USA is really rallying together. It's quite a moment to be in this room. I thought it was going to feel like everybody was on their knees after such devastating news of Simone Biles being out of the competition, but something happened. This team is rallying."
To make her support even more clear, the mother of one tweeted, "@Simone_Biles already won. She is a class act. Withdrew from team competion [sic] after vault... stayed and cheered on her teammates... got them chalk for their hands.. encouraged.. hugged them. She already won. Congrats on the silver medal!"
While the sports world holds its breath waiting to learn Biles' prognosis, it's clear that she'll always have support from her friend Hoda.