How To Get The Exact Clothes Kris Wears On Keeping Up With The Kardashians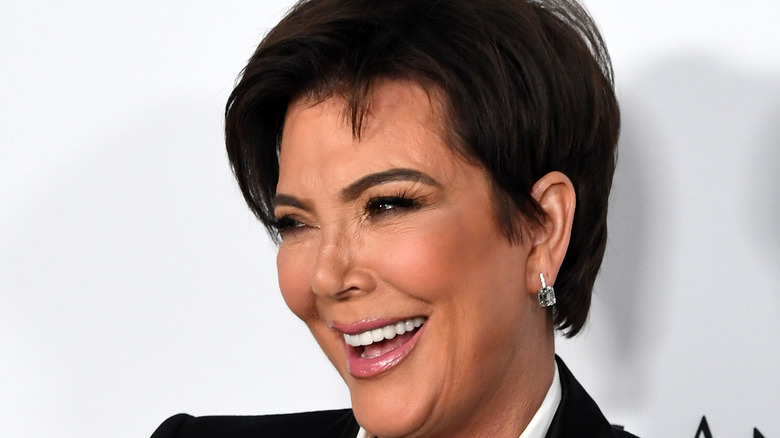 Kevin Winter/Getty Images
Whether members of the Kardashian-Jenner family are posting to social media, gracing the cover of magazines, or appearing on reality television, they are doing it in style. While they each have their own unique wardrobes, no one does it like the momager of the group, Kris Jenner. She always looks so professional and polished and can usually be found in her sleek, signature color of black.
Thanks to the website WornOnTV, fans can shop for the exact clothing items worn by Kris on "Keeping Up With The Kardashians," with pieces ranging from dresses and blouses to accessories and loungewear.
For example, it is common to see this reality star in sunglasses, and one pair she rocked were the 50mm Polarized Square Sunglasses by Celine that are available for purchase on Nordstrom's website. She also has been spotted in some great loungewear — the Danielle Cathari Deconstructed Track Suit by Adidas, for example, that is available on ASOS.
Kris Jenner has even worn Skims on television, and they can be purchased by fans
Over the years, different fashion lines have popped up due to members of the Kardashian-Jenner family, and of course, Kris Jenner is going to support her kids by wearing their products. So, she has been featured in the Cozy Knit Robe by Skims, which comes in an array of sizes and colors (but, of course, Kris went for black).
Another dark and dramatic ensemble that Kris has rocked includes the Argyle Intarsia Knit Wool-Cashmere Cardigan by Alexander McQueen, and this contrast cardigan can be found through the Luisa Via Roma site.
Many viewers surely remember what Kris wore in the premiere episode of Season 19, titled "Growing Pains." It was not an all-black outfit, but this cream look was stunning. It was made up of the Two-Tone Draped Silk-Blend Midi Dress by Bottega Veneta, which can be purchased by you via MATCHESFASHION, and a contrast-panel belted trench coat that is also by Bottega Veneta and also on MATCHESFASHION's website.