Where To Buy The Exact Clothes Chrissy Metz Wears On This Is Us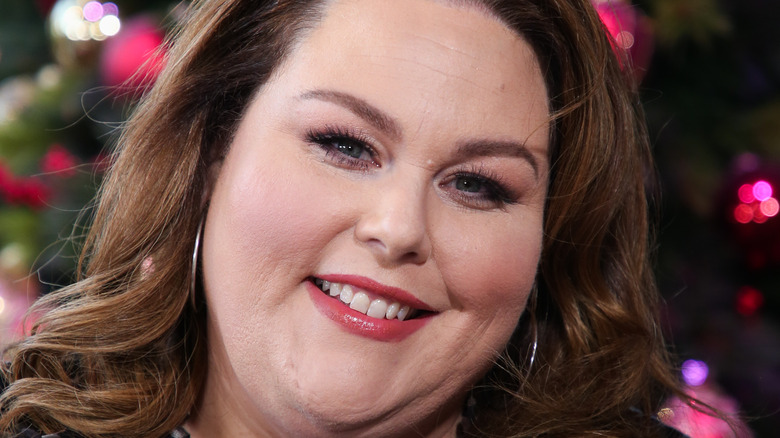 Paul Archuleta/Getty Images
It's difficult to have just one favorite character on NBC's show "This Is Us," because every lead has a myriad of both strengths and weaknesses — it's what makes the show as relatable and emotionally rounded as it is. Kate Pearson, one-third of the famous "Big Three" triplets, is no exception to this. Portrayed as an adult by the brilliant and beautiful Chrissy Metz, Kate is an integral part of the show. She's complicated, she's compassionate, and she's the biggest Pittsburgh Steelers fan around (per Fandom). Oh, and she'll also go to bat for anyone in her inner circle, no matter the cost.
Basically, we would love nothing more than for Kate to be our real-life BFF. But alas, she's just a fictional character (even though Metz's incredibly realistic acting often leads us to believe otherwise). But there is one aspect of Kate that we can bring to life, if we so choose — her wardrobe. That's right. Thanks to ShopYourTV, we know where you can find some of the most iconic outfits Metz wears on the show. You'll most likely want to add them to your cart pronto.
Some of the dresses Chrissy Metz wears on This Is Us are big-time bargains
When it comes to clothes, one of Kate Pearson's staples seems to be summery print dresses. If you're looking to emulate that style, ShopYourTV has you covered. As it turns out, most of the pieces come from the affordable plus-size store Torrid — given Chrissy Metz's net worth, we can't image that she's exactly looking for a bargain, but we are! 
According to the site, the distinct flower and leopard print maxi dress Kate wears on the fifth episode of Season 5 is designed by the one and only Betsey Johnson. You can find the same one at Torrid, and it's even on sale! Lucky for you, the piece will only put you back $35 (as opposed to the regular price of $98), if you hurry. While you're on that site, you can also check out the flattering yellow smocked dress Kate wears in Season 5 Episode 3, or maybe the boho-chic teal blue midi dress she wears in Episode 15. 
ShopYourTV even tracked down a look worn by teenage Kate, who's played by Hannah Zeile, per Fandom. Remember her angsty punk phase of hers? Well, it was full of bomber jackets, like that khaki green one in Season 2 Episode 1. Although that exact piece from Topshop is currently sold out, you can check out the British retailer's many other options. Kate Pearson, we like your style!