Inside Dua Lipa And DaBaby's Relationship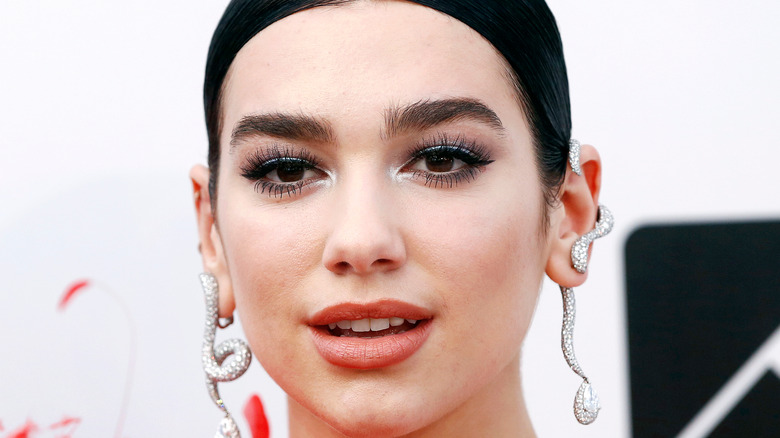 Shutterstock
The following article includes offensive quotations about the LGBTQIA+ community. 
Rapper DaBaby is under fire after making homophobic comments during a performance at the Rolling Loud festival in Miami, Florida. DaBaby (real name Jonathan Kirk) has collaborated with the high-profile likes of Dua Lipa and Camila Cabello over the years, and it seemed as though his star was only rising. But in a shocking twist, he offended the LGBTQIA+ community, not to mention scores of allies around the world, by bizarrely proclaiming, "If you didn't show up today with HIV, AIDS, or any of them deadly sexually transmitted diseases, that'll make you die in two to three weeks, then put your cellphone lighter up." DaBaby then added, "Fellas, if you ain't sucking d**k in the parking lot, put your cellphone lighter up."
According to Page Six, the rapper later reiterated his stance during an Instagram Live session, arguing, "I wasn't going on a rant. That's called a call to action. That's what that's called, cause I'm a live performer. I'm the best live performer." Although DaBaby seemed to be having a bad case of word vomit, he finally apologized for his comments (kind of) in a tweet posted on July 27, 2021. "Anybody who done ever been effected by AIDS/HIV y'all got the right to be upset, what I said was insensitive even though I have no intentions on offending anybody. So my apologies," DaBaby wrote, adding, "But the LGBT community ... I ain't trippin on y'all, do you. y'all business is y'all business."
Lipa — who has worked with the rapper on tracks like "Levitating" — took to social media herself to make a statement in the face of her former collaborator's shocking behavior.
Dua Lipa rejected DaBaby's words and stood with the LGBTQIA+ community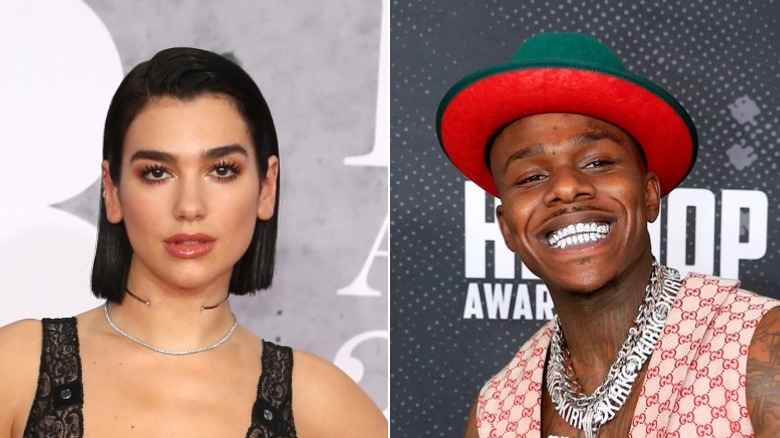 Dua Lipa, who famously worked with DaBaby on the hit track "Levitating," took to her Instagram Stories to emphatically denounce his anti-LGBTQIA+ stance while also reiterating her own position as a proud ally. As People noted, Lipa confessed to being "surprised and horrified" by her former collaborator's derogatory comments, admitting, "I really don't recognize this as the person I worked with." The British pop star went on to note that her fans are well aware of where she stands on the issue, confirming, "I stand 100% with the LGTBQ community," and further advising, "We need to come together to fight the stigma and ignorance around HIV/AIDS." There are calls for DaBaby's verse, which appears on the remix of Lipa's original album track, to be replaced, with fellow singer Victoria Monet offering to do the honors.
During his Instagram Live stream, the rapper described those who contract HIV as "stupid," "nasty," and akin to "junkies on the street." In a wild move, T.I. defended his buddy by invoking the name of a queer icon, arguing, "If Lil Nas X can kick his s**t in peace ... so should dababy." Elsewhere, DaBaby also came under intense criticism for bringing Tory Lanez to the stage, who (as of publication) faces criminal charges after allegedly shooting fellow rapper Megan Thee Stallion in the foot. His comments have not only resulted in uproar, but have also led to the cancellation of a show in Miami, according to the Miami Herald.