How To Wear A Blazer Casually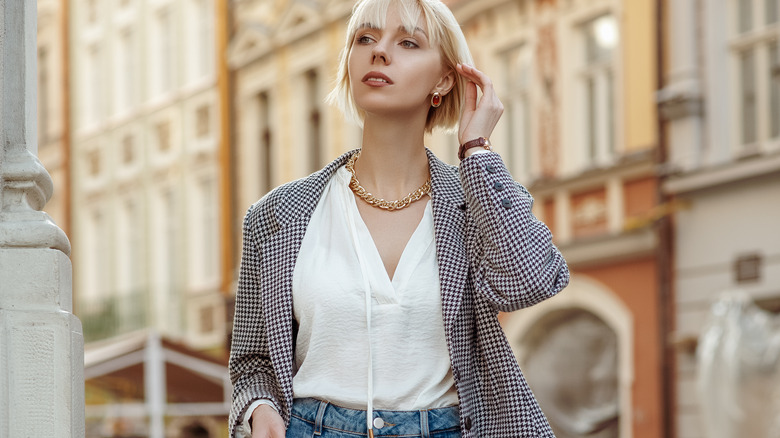 Shutterstock
Long thought of as a men's piece of clothing, the blazer has come a long way since the 19th century when they were considered athletic wear more than businesswear, as British rowers would wear them to warm up before a competition (via Trunk Club). In this 21st century world, blazers are worn by men and women in both professional and casual settings, and women's blazers are more versatile than ever.
It wasn't even until the 1950s when what we now call the blazer got its current name. Still worn by row teams, the item of clothing got a mention in the Cambridge University periodical called "Lady Margaret's Boat Club." As the blazers the Cambridge oarsmen wore were a blazing bright red, they earned the name blazers and the name has stuck, according to Trunk Club. However, they weren't just reserved for men in the 19th century. American actress Sarah Bernhardt got in on the act — literally — as she wore them as part of the more masculine persona she took on stage. As blazers have evolved over the decades, so have their uses. Today, a woman might wear a blazer with a hoodie, to the office with slacks, or pair it with a skirt or jeans for a fun night out.
Blazers have evolved for women over the years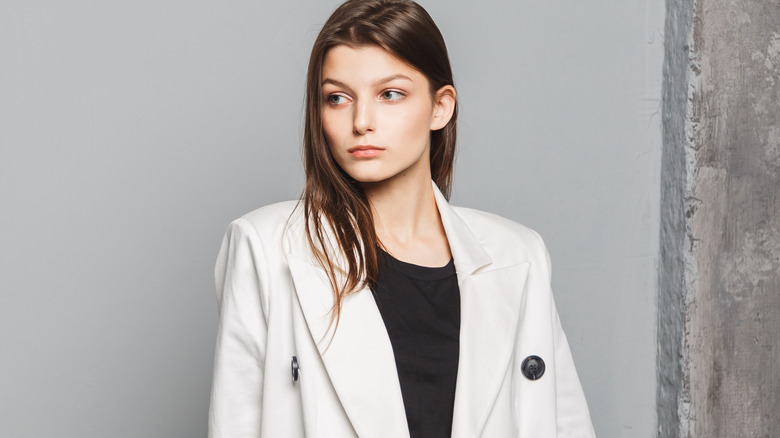 Shutterstock
According to Trunk Club, women's blazers gained more mainstream popularity in the 1980s with the release of box office blockbusters like "Working Girl" with Melanie Griffith and "Baby Boom" with Diane Keaton. The New York professionals illustrating the modern woman in these films showed us how women could wear blazers in the workplace and make them look like they could play in the big leagues with the men. But blazers are not just for the workplace any more and can be worn any number of ways, as noted by Byrdie.
In today's world, you can find blazers in any style and color. While they may have gotten their name from blazing red all over a rowing team, they eventually became more subdued when worn as office wear, often found in shades of grey, black, and navy blue. As of today's writing, you can find a blazer in almost any color depending on your mood. They also come in a variety of cuts, as some are oversized while others are more fit. A wool material might work for fall or winter and silk or linen can keep you cooler, but stylish in spring or on a breezy summer night (via Trunk Club).
Blazers are not just for work, but for anytime casual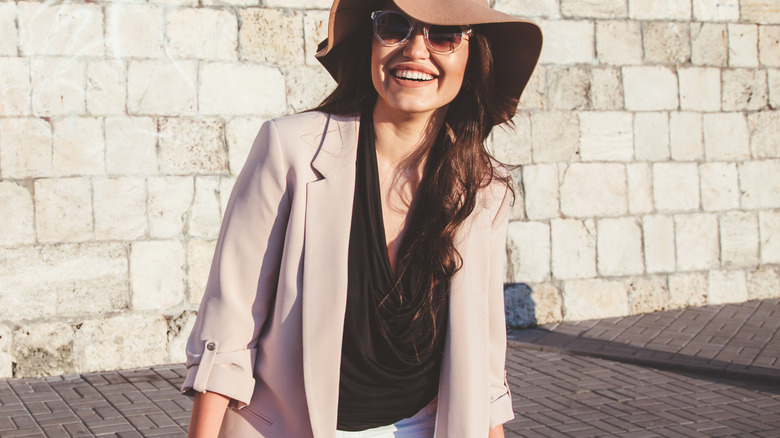 Shutterstock
Pair a blazer with your favorite pair of jeans, with loose cut boyfriend jeans being the ultimate in casual, for an amazing yet every day look (via Stitch Fix). A more tailored blazer that shows off your waistline is a perfect complement to those loose fitting jeans. Shake things up by opting for a printed blazer rather than a solid color.
Of course, you can always pair an oversized blazer with skinny jeans or even some comfy yoga pants and a slouchy pair of knee-high boots. Wear either a camisole or t-shirt underneath in warmer weather or a turtleneck in cooler temperatures. If you want to get really hip and casual, jeans with a distressed graphic t-shirt and a blazer in any shade works for a shopping trip to the mall, lunch with your best girlfriends, or a casual night out, noted Who What Wear. For a different kind of summer look, you can even pair a blazer with shorts and sandals (via Stitch Fix).
Mix and match your favorite blazer with all sorts of prints and colors. Wear darker bottoms and a pastel blazer or wear a printed blazer with casual solid slacks or jeans. Whether you choose long boots, booties, or even a pair of sneakers or flats, there's a blazer that will work with the look you want to achieve (via Who What Wear).