The Real Reason Diane Keaton Changed Her Name
Diane Keaton was recently spotted taking her dog, Reggie, out for a walk (via The Cut). The actor could be seen sporting not only a mask and signature hat, but some super trendy oversized wide-legged jeans. Being a trendsetter is nothing new for Keaton. She has always been a style icon since the 1970s when she starred as the title character in "Annie Hall." In fact, Keaton's style in the film, according to Screen Rant, heavily influenced women's fashion during that decade, and the actress ended up winning both an Academy Award and a Golden Globe for Best Actress in a Leading Role. 
It was such an iconic performance that no one else could have tackled. The part was even written for Keaton, according to People. Director and co-writer Woody Allen wrote the part of Annie Hall for Keaton. The two had previously dated and Keaton's real name was actually Diane Hall. She would often go by the nickname "Annie," and so Annie Hall was created. Since the actress is technically Diane Hall, you may be wondering where "Keaton" comes from.
Many actors must change their name when joining the actors' union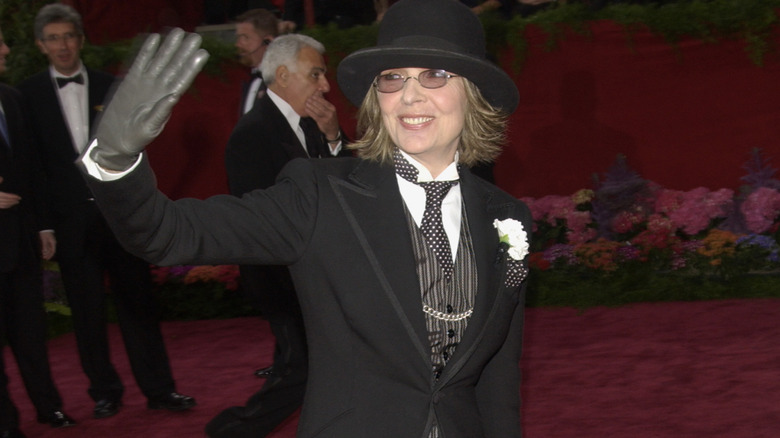 Shutterstock
It's very common for actors to use stage names. There are even quite a few reasons. One could be that someone else in the Actors' Equity Association has already claimed your name. According to the Irish Examiner, when Diane Keaton tried to join the AEA, she was told to change her name "because there was already a Diane Hall" in the union. 
The "Something's Gotta Give" star said she decided to go with Keaton, because it was her mother's maiden name. It's hard to imagine the actress being anyone other than Diane Keaton, but apparently there is another Diane Hall out there somewhere. Another famous Keaton — Michael Keaton — actually had to change his name for similar reasons. According to Backstage, the "Batman" actor was born Michael Douglas, but had to change his name when joining the actors' union because there is already a pretty famous Michael Douglas.
Because both Diane and Michael share the same last name, some people have even wondered if the actors are related IRL (via Closer Weekly). Knowing now that both of their names are stage names, you know the answer.