Why The US Women's Gymnastics Team Has To Do Their Own Hair And Makeup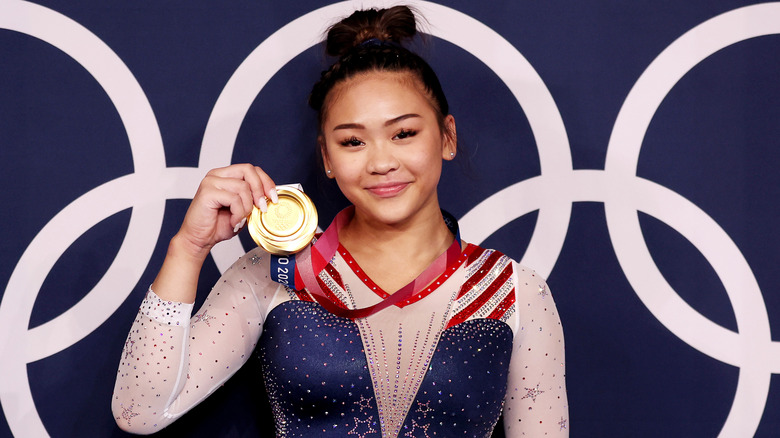 Jamie Squire/Getty Images
All eyes are on the U.S. women's gymnastics team after their star athlete, the GOAT Simone Biles, shockingly bowed out of competition in Tokyo. As CNN reported, Biles, who is universally considered the greatest gymnast her sport has ever seen, withdrew from the women's team final, citing mental health issues as she looked to protect "her body and mind." The Russian team ultimately won the gold. Struggling to speak to the gathered press afterward, Biles explained through tears, "I have to focus on my mental health and not jeopardize my health and well-being."
The move is being widely heralded as a step in the right direction for an industry that generally values victory above all else. Still, despite Biles' shocking exit, her team has gone on to do brilliantly in the games. As The Washington Post confirmed, Biles' teenage teammate Sunisa Lee emerged with the individual all-around title, solidifying the Team USA streak (they've won every all-around title since 2004). 
Aside from making history on the world stage, these gymnasts have to handle one more performance responsibility all by themselves.
Handling their own glam is a team effort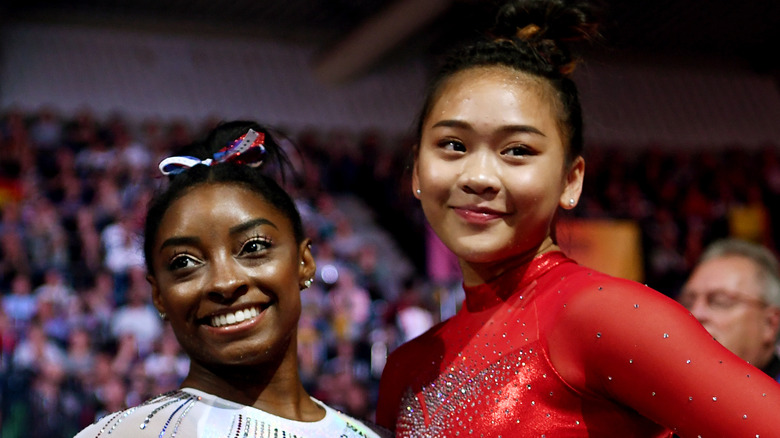 Laurence Griffiths/Getty Images
It's hard enough competing on the biggest stage in the world — in front of millions of people, after training your whole life — but imagine having to do your own hair and makeup for the Olympics, too. As People confirms, that's exactly the responsibility facing the U.S. women's gymnastics team. During the Tokyo Games opening ceremony, the GOAT herself, Simone Biles, conducted a Q&A session with fans on her Instagram Story, during which one curious follower wondered whether she and her fellow teammates, including Sunisa Lee, Jade Carey, and Jordan Chiles, handle their own glam for the Olympics. "Yes, we do," she responded matter-of-factly. "So, if we're looking busted, mind your business LOL."
Teammate MyKayla Skinner informed People that the ladies help each other out before hitting the floor, revealing that Chiles has even braided Skinner's hair in the past. In fact, Chiles is actually the resident hair expert, helping everyone from Lee to Biles get their locks in competition condition. Due to the strict restrictions in place in Tokyo as a result of the ongoing COVID-19 pandemic, friends and family weren't allowed to attend — never mind hair and makeup artists — which Skinner admitted was "such a pain." As the athlete argued, "I feel like, especially being such great athletes that we are, it would be nice if someone could just come in, get us ready and make us look really good in front of the camera."
Regardless, it seems the gymnasts are plenty well-equipped to make themselves look good — no, great — in front of the camera, sans professional help.