Brad Paisley's Adoption Hobby Includes Rescuing The Most Surprising Animals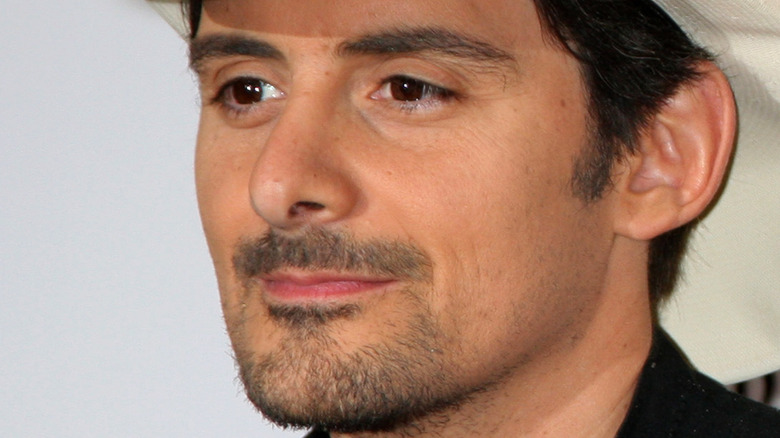 Shutterstock
Saying Braid Paisley is a popular country singer is an understatement. He broke into the country music scene with his song "He Didn't Have To Be" in 1993, and he's stayed a fixture in country music over the last decade (via Grammy Awards). If you flip on a country music radio station, you'll likely hear a Paisley song at some point.
Most people are familiar with Paisley's career but are unaware that he's a big animal lover. He likes animals so much that he even got involved with Discovery Channel's Shark Week, performing his song underwater to an audience of sharks (via CMT). The singer has even performed his own surgery on his son's pufferfish to save its life, according to People. This guy is a big fan of animals!
Given his history, it's not surprising that Paisley wanted to help out animals in need during the COVID-19 pandemic. With more time on his hands, the singer began rescuing animals, according to Outsider. The animals he chose to help were not your typical rescue animals, though. 
Brad Paisley has taken in rescue donkeys
A lot of people picked up quarantine hobbies. With so much time on everyone's hands, people began seeking out new ways to fill it, and celebrities were no different. Paisley's natural love for animals led him to help rescue donkeys during his break from touring, per Taste of Country. 
It all started as a farming operation at his home in Nashville. During an appearance on the Ellen Show in October 2020, the singer shared that he and his wife, Kimberly Williams-Paisley, have been running what he jokingly called "a donkey rescue" (via Ellentube). "I've been running a donkey rescue ever since I hired a band," he told Ellen, "but this is kinda a different level of it."
While losing his ability to tour during the pandemic, Paisley found comfort in his farm. "It's been an amazing thing to be home on the farm like this right now with these animals," he shared. "It's different. I know everybody's finding new ways to do things around the house that they never thought they would." Now, Paisley is the proud parent to a few rescue donkeys on his Nashville farm!