The Truth About Jill Biden's Recent Trip To The Hospital
Chip Somodevilla/Getty Images
Dr. Jill Biden took her pro-vaccination campaign on the road after making a quick pitstop in Tokyo, Japan, to proudly lead a United States delegation at the Olympics, in her debut solo outing abroad as first lady. CBS4 News reported Biden subsequently headed to Hawaii, visiting a pop-up COVID-19 vaccination clinic in Waipahu, where she strongly encouraged anyone on the fence about the jab to get it ASAP, as the United States continues to battle the delta variant of the highly infectious virus.
Speaking at the Waipahu High School, Biden strongly warned that COVID-19 is now "more contagious than ever," and recommended vaccinations in order to give the entire country a better chance of fighting back against the deadly virus. "I'm here to ask everyone listening right now, to choose to get vaccinated," Biden urged. Elsewhere during her Hawaii trip, Biden partook in a barbecue in Honolulu, alongside military families. However, one visit she definitely wasn't anticipating was to the hospital. 
A walk on the beach gone wrong landed Jill Biden in the hospital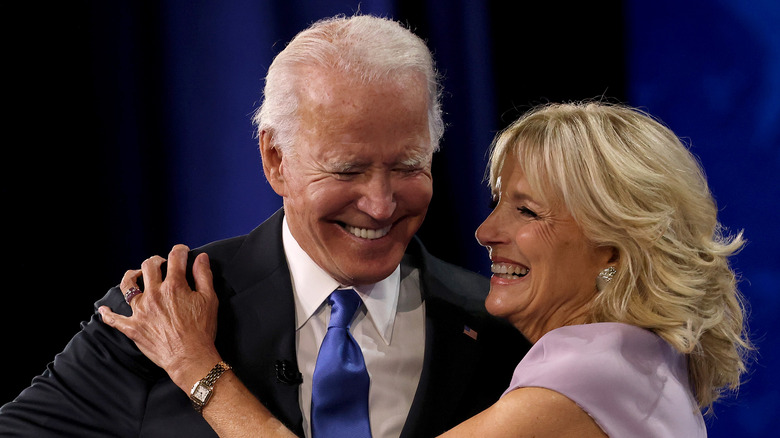 Win Mcnamee/Getty Images
According to People, First Lady Dr. Jill Biden attended Walter Reed National Military Medical Center in Maryland upon arriving home, after stepping on an object while strolling down the beach in Hawaii. The White House confirmed that her husband, President Joe Biden, would be by her side as the first lady underwent the requisite extraction. Her spokesman, Michael LaRosa, confirmed in a statement, "Last weekend, prior to her two official events in Hawaii, the First Lady stepped on an object on the beach which became lodged in her left foot." He confirmed the item would be removed, with the president by her side. Jill previously underwent a "common medical procedure," with a spokeswoman confirming at the time that she "tolerated" it well and would be back to work quickly. There were no further details provided, though we do know the president was dutifully present then also.
The first lady's whistle-stop tour of the country, the aim of which was to convince those still unsure about the COVID-19 vaccine to get it, has now concluded. As The Washington Post noted that, aside from Hawaii, Biden also visited Alaska to spread the word. She notably didn't complain about being in pain at any stage of the trip, nor did the injury come up during her flight home. In fact, the dedicated first lady reportedly met with press and thanked everybody involved for their hard work after touching down.