Here's What Billie Eilish's My Future Really Means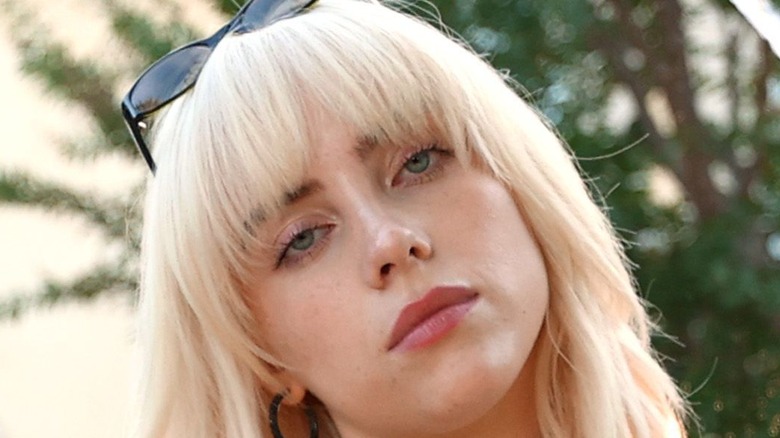 Matt Winkelmeyer/Getty Images
Following on the heels of her Grammy Award-winning debut album, "When We All Fall Asleep, Where Do We Go?" pop star Billie Eilish dropped her sophomore album on July 30 (via Pitchfork). The anticipation for "Happier Than Ever" was so high that the 19-year-old set a record for the most pre-adds globally on Apple Music (via New York Post). Eilish wrote the album with her brother and collaborator, Finneas, who also produced "Happier Than Ever."
NPR music critic Amy Powers noted (via New York Post) that Eilish's album features more grown-up topics than her debut: "She's writing a lot about her relationship with her body and her right to own her image and own her body." This theme is present in the early single "My Future," which came out in July 2020. The moody track peaked at No.1 on the Billboard Hot Rock & Alternative Songs chart and currently has over 220 million streams on Spotify. Let's take a look at what it means.
'My Future' is one of Billie Eilish's more hopeful ballads
Billie Eilish's hit single "My Future" explores the songstress' excitement about the woman she is turning into and how she's focused on her own self-development and not any love interest. She sings: "'Cause I, I'm in love / With my future / Cant wait to meet her / And I (I), I'm in love / But not with anybody else / Just wanna get to know myself." In a statement explaining "My Future," the Los Angeles native said (via Esquire), "It's a song that's really really personal and special to me. When we wrote this song, it was exactly where my head was at — hopeful, excited ... and self-reflection and self-growth." 
"My Future" was released in the early days of the COVID-19 pandemic, leading the track to take on a whole new meaning. Eilish explained, "The future feels uncertain and crazy right now. But I think we need to be ready to put the work in, and if we do that, we should be hopeful and excited for our future."
One thing's for sure: With the debut of Eilish's sophomore album, we're excited for what the future has in store for this immense talent.