This Old-School Decor Is Taking Over Your TikTok For You Page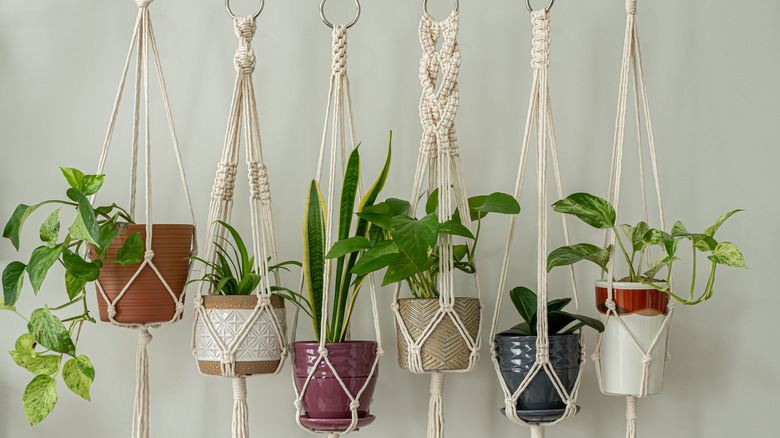 Shutterstock
Today's fashion designers are constantly inspired by pieces of decades past, but what about home designers? And what do the swarms of TikTok influencers have to do with the hottest old-school decor taking over our "for you" pages?
A place for inspiration about anything these days, decor-tok has recently taken a plunge on macramé; the art of making knots for decoration, this technique became incredibly popular in the '70s for its versatility and accessibility (via ArtNews). Though popularized at the height of the hippie era, macramé's history actually starts around the 13th century with the Arabic word "migramah," meaning "fringe" or the Turkish word "makrama," meaning "napkin" or "towel" (via My Modern Met). 
First spread by traders around the Eurasian continent, the designs and techniques eventually spread across the world. Because of their reliance and needed expertise with knots, it's no surprise that sailors had a huge role in spreading the art across the world. From wall to plant decor, macramé was seen as the ultimate rustic touch to your home, and the trend that will turn you into the most popular craft friend of your group. 
After all, all you need is some rope, one quick TikTok tutorial, and you're ready to go on your next artistic adventure.
These are "knot" your average plant tutorials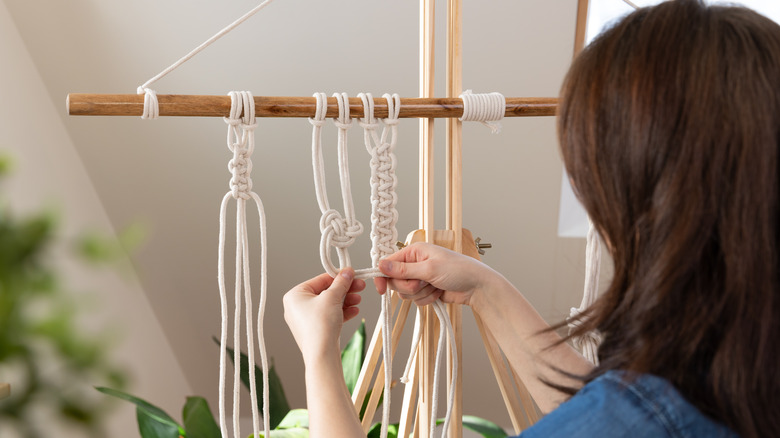 Shutterstock
While macramé simply refers to the style and practice of creating art out of knots, TikTok has adopted the practice mainly for its hanging plant tutorials. Tied around white or light wood potters, the knotted strings of rope or twine encapsulate your favorite indoor plants.
To begin, simply hang some rope or twine on a wooden ring and begin your own series of knots. A plant hanger can be as easy as following HGTV's Handmade knotted tutorial on TikTok. All you will need is rope and a hot glue gun (via TikTok). 
If you perhaps want a bit more of a challenge and a way to add some sparkle into your plant decor, Tangled Dreams Co. on TikTok stepped up the macramé game by adding sequins onto their knots. The result was a beautiful white rope tied together with sequins for a rustic yet elevated plant hanger. You can also use the same technique to create sequined macramé wall decor.