How John McCain's First Wife Really Feels About Their Divorce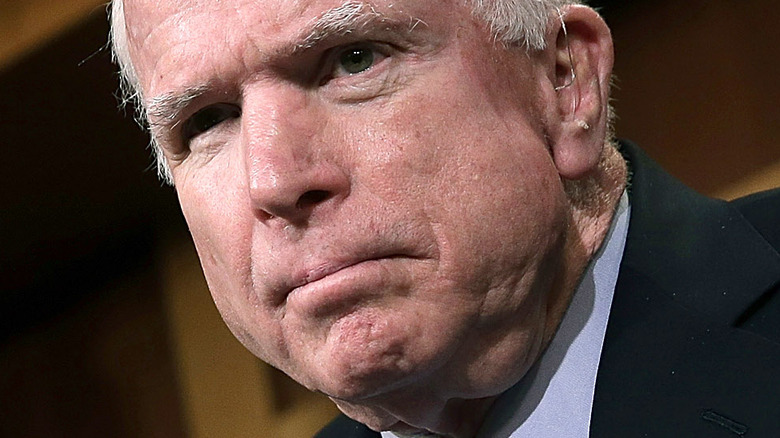 Win Mcnamee/Getty Images
Until the day he died, Sen. John McCain was known as a war hero, national icon, and a "maverick" for voting his own way in the U.S. Senate, where he served six terms representing the state of Arizona (via Biography). But there was a time when less kind things were said about him, particularly when his marriage to Carol Shepp ended in 1980.
Friends around the couple said at the time that they had no idea that Carol and John McCain were going through a bad patch. A friend of Carol's, Connie Bookbinder, told The Washington Post, "There was never a sign of strain. She never told me, 'I think John's running around.' It came as a total surprise to her. I think he just fell in love with someone else. Someone younger and bright and charming. Sheppie wasn't bitter about it. She said, 'He's in love with someone else, and there's nothing we can do about it.' "
But Peter Lakeland, who is a friend of John McCain said it had less to do with what he said, and more to do with what he didn't talk about. "My sense was, they were continuing to be married, but his heart wasn't in it. My own impression was that when he met Cindy, they were extraordinarily attracted to each other. They were both smitten."
'I was blindsided' — Carol McCain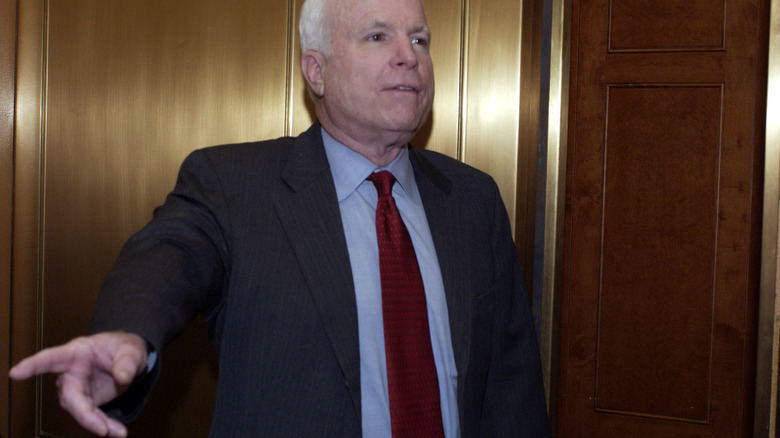 Bloomberg/Getty Images
Neither John nor Carol McCain blame the former's years as a prisoner of war in Vietnam as a key reason for the breakdown in their marriage. Still, those close to the couple felt the years spent apart had an impact. Joe McCain, John's younger brother, told The Washington Post that "...I think that during those 5 1/2 years, they both changed to a certain degree under all that stress. When he came back, they wanted the marriage to work, [but] I think they'd just gone to different places and they couldn't put it back."
In his biography "Worth Fighting For," John was clear about who was to blame for the end of his first marriage. He wrote "...my marriage's collapse was attributable to my own selfishness and immaturity more than it was to Vietnam, and I cannot escape blame by pointing a finger at the war. The blame was entirely mine."
Carol has been gracious but direct about what happened, too, as she said years later, "He was looking for a way to be young again, and that was the end of that." She also denied having any idea that things weren't all right. "I didn't know anything about it, I had no idea what was going on, I was pretty much blindsided and it broke my heart," she said (via People).
'I love the man' — Carol McCain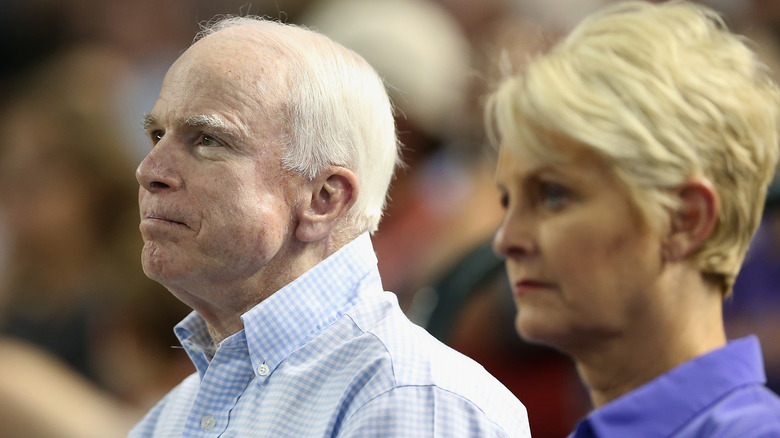 Christian Petersen/Getty Images
John McCain was still married when he met Cindy Hensley during a trip to Hawaii in 1979. "He introduced himself to me and I just didn't know what to expect. What I saw was this incredible human being that was a lot of fun to be around," Hensley said. Within a year after they met, People said McCain had proposed. The couple obtained their marriage license four weeks before the divorce between John and Carol was finalized — and they were married six weeks after John's marriage to Carol ended. Carol McCain never remarried.
Like many marriage breakdowns, the divorce hurt the couple's friends, too ... among them, the late former President Ronald Reagan and his wife Nancy. It was Nancy who helped Carol find a new place to live; she also helped Carol land jobs that would help her through that period in her life (via the Los Angeles Times).
Despite the traumatic end to their marriage, Carol never had anything bad to say about John McCain, even when he was running against Barack Obama for the presidency. She said: "A lot of people tried to get me to say bad things about him during that time. And I was like, 'Are you crazy? I would never do that, you don't know me or you wouldn't ask me."
Said Carol, "I mean, I love the man. I would never do anything to harm him in any way."