How To Choose The Right Silver Hair Color For You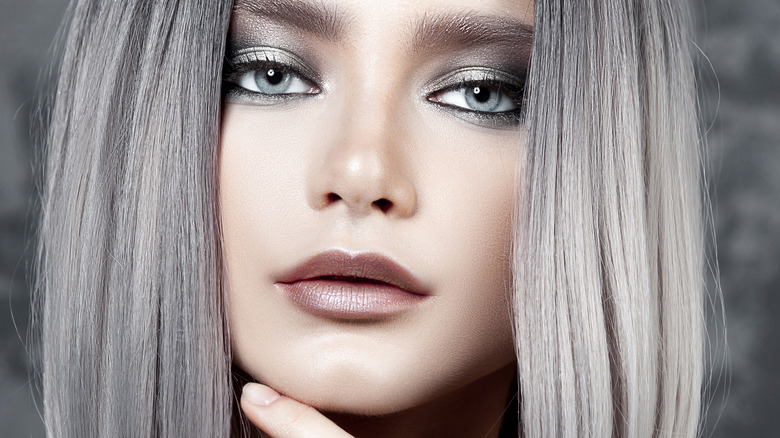 Shutterstock
Silver hair is in, in a big, big way this summer. As per The Trend Spotter, silver hair's the moment right now, and now's the time to try out this color if you ever wanted to but weren't sure about its acceptance. When it comes to creating that stylish silver look, though, there's not just one silver hue to choose from — there are lots of different silver tones available. Knowing what style to go for can be tricky; you want to opt for a color that looks stylish but that also goes with your personal style.
As per Hair Adviser, there are an array of ways that you can incorporate silver into your hair, from silver highlights to dying your entire head silver. It's simply a case of finding the silver shade — and look — that works best for you.
When dying your hair silver, it's important to realize that regular maintenance is important. As The Trend Spotter notes, it's a good idea to use a purple shampoo to retain the silver hue at the ends of your hair. For your roots, using a toner every two weeks is also recommended.
What's the right silver hue for your hair?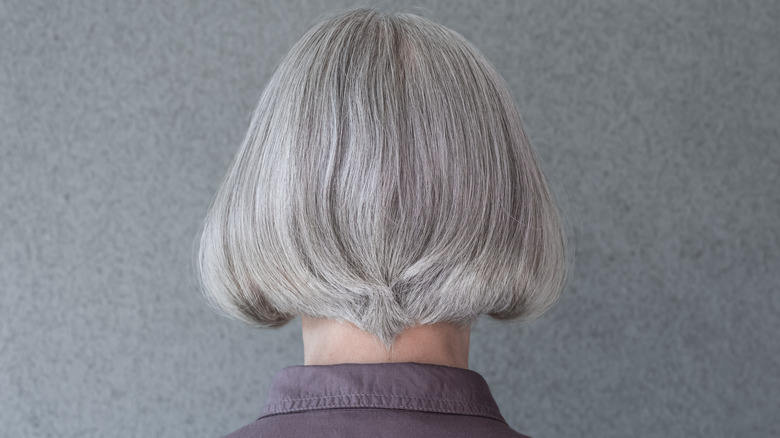 Shutterstock
As per The Trend Spotter, the silver hue you choose for your hair depends on you. There's an array of ideas to consider these days, and a great place to start is your natural hair color. For example, black and silver hair works well if you have darker hair; just keep in mind that in order to swap your darker locks for silver hair, it may take a few trips to the salon.
Another option is silver blond. According to the outlet, this shade of silver will allow for a more natural look and so, may be a good choice for anyone wanting to try out silver but not ready to go extremely silver. The most important step for a silver blond look is choosing the right shade of blond — it shouldn't get to platinum but it needs to be free of all golden tones.
Another fantastic look is silver ombré hair. Picture this, hair that's a darker silver tone on the top, and wonderfully light — almost white — on the bottom. As for brown hair, Hair Adviser recommends silver highlights. Dark silver hair, meanwhile, can also look wonderfully edgy. And for a more subtle look, opt for ash brown hair with soft, silver highlights running throughout (via Allure).