Most Dramatic Reunion Moments In Real Housewives History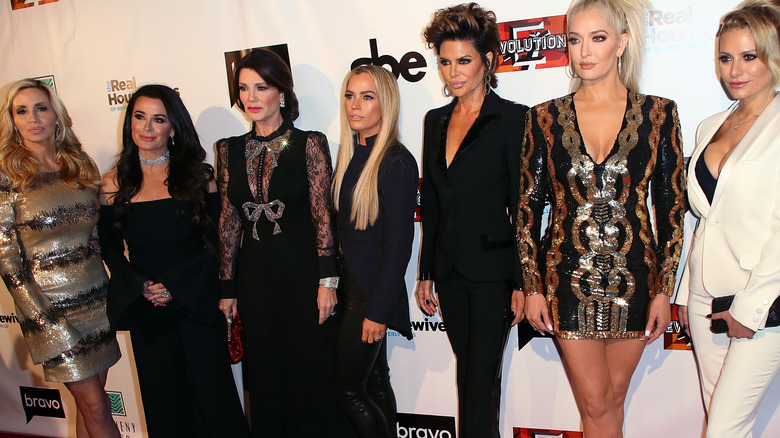 David Livingston/Getty Images
If you're a "Real Housewives" junkie, you know that there is nothing better than the reunion episodes. While we all sit on our couches, binge-watching seasons of the show, on the edge of our seats over the marriage drama, the trash talking, and the scandals, the reunion brings it all together one last time. Who doesn't love to see all of those epic fights and major breakdowns? Plus, host Andy Cohen does the absolute best job at navigating all those ladies. 
From Atlanta to New Jersey to Beverly Hills, we've seen some actual crazy things go down on the "Real Housewives" reunion stage. Some screaming matches and even Cohen getting knocked down (via BravoTV). And, who can deny that when the husbands come out to the stage we see even more major backlash and arguments come to light as well? Who can deny that when Cohen brings out surprise guests it takes the show to another level entirely, (we're talking to you, Danielle Staub). 
Over the years, Bravo has marketed the "Real Housewives franchise to become a mega success, and, we're loving every dramatic moment of it.
Kim and Lisa kept the drama brewing for an entire season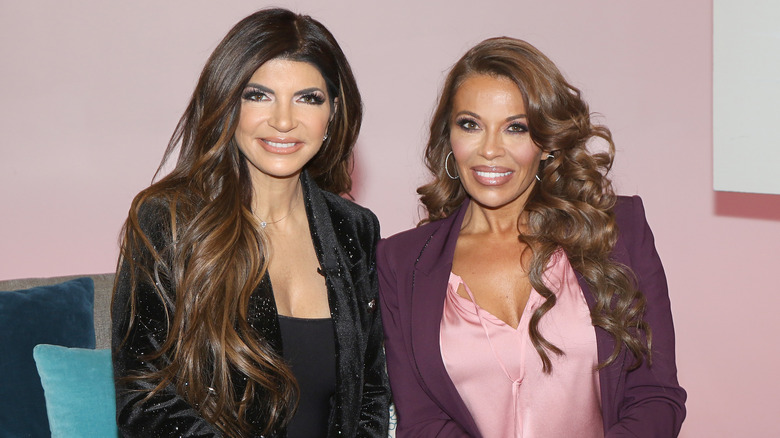 Jim Spellman/Getty Images
First up, who can forget when Kim Richards and Lisa Rinna were battling it out for the entirety of Season 7? The reunion brought it all full circle surrounding, well, a bunny. Kim came to the reunion with a gift, to re-gift back to Rinna (via YouTube). Rinna had originally purchased the bunny as a "peace offering" for Richards' newborn grandson. But, it turns out, the bunny never made it to the baby. Instead, Richards brought it to give back to Rinna, right on the stage. 
Next comes the "Real Housewives of Atlanta" reunion when Porsha Williams and Kenya Moore went at it on stage. The two are well known for going head-to-head on the series, but at the reunion during a yelling match, Moore literally pulled out a megaphone to get her word in (via YouTube). Following this, Williams literally got up and began to pull Moore by her hair. The whole thing was a hot mess fest and we couldn't take our eyes off of our TV screens. 
On the "Real Housewives of Miami," no reunion moment was more monumental than in season three when Lisa Hochstein claimed that Joanna Krupa used to be an actual hooker (via Daily Mail). Cue the jaw drop, right? Although there was no proof, we can't forget that jab.
And, even more drama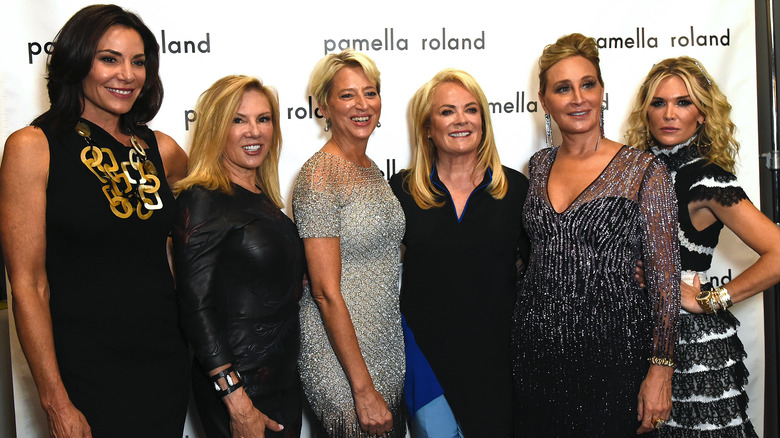 Yuchen Liao/Getty Images
In season two's reunion of "The Real Housewives of New Jersey," things got a bit crazy with Theresa Giudice and Danielle Staub. The two, who used to be at each other's throats, got into a heated argument when Staub brought up Giudice's family. Giudice got up off the couch, ready to charge at Staub and ended p completely pushing Andy Cohen down in the process (via BravoTV). Yikes!
Briana Culberson shocked the world on the Season 8 reunion of "The Real Housewives of Orange County" when she brought up some dirt on her mom — Vicky Gunvalson's — former boyfriend, Brooks Ayers. While many people were up in the air about Ayers on the show, the reunion brought things to a head when Culberson revealed Ayers had told her husband to "beat her" and that he even hit on her while she was pregnant (via Entertainment Tonight).
And, finally, let's not forget who was the first to ever do it. On Season 1 of "The Real Housewives of New York," Ramona Singer was the very first housewife to "walk offset" during the reunion (via BravoTV). Her powerful exit paved the way for seasons to come, where housewives from all over walked off during heated arguments. A true legend.