Kate Middleton's Latest Roles In British Sport Are Turning Heads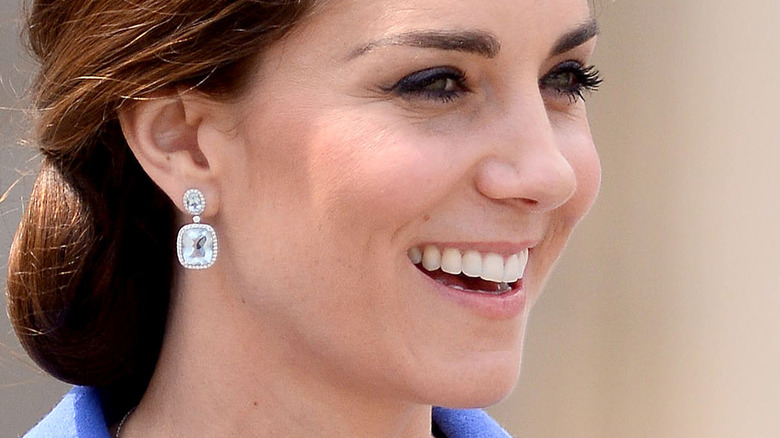 Shutterstock
Well before her time in the limelight, Kate Middleton was both a player and fan of several popular sports in Great Britain. When she wasn't playing on the St. Andrew's school field hockey team, Kate attended many rugby matches with her family in her younger years. "Rugby was a big thing in our family, and the focal point was international matches ... We'd plan our weekends around the matches ... If we lost, my dad would be in a state of despair for the rest of the afternoon, as if he'd actually lost the game himself," Kate's sister Pippa Middleton wrote in Vanity Fair in 2014. Since becoming the Duchess of Cambridge, Kate has supported many British teams and athletes in tennis, croquet, field hockey, and, of course, rugby, per the Daily Mail.
Throughout the decades, the British royal family has been an active supporter (and sometimes, participant) of several British sports organizations. Each member of the royal family is expected to become a patron of several organizations. The particular organizations they choose to represent and publicize depends upon their own personal preferences, according to The Sun. These organizations can represent a number of issues and interests, from healthcare to sports. Prior to his death, it is reported that Prince Phillip shared over a thousand of these patronages with Queen Elizabeth. While Kate has been a patron for many other sports-related organizations throughout her time, her latest roles in British sports are turning heads.
Middleton will be taking over Prince Harry's roles in two British sports organizations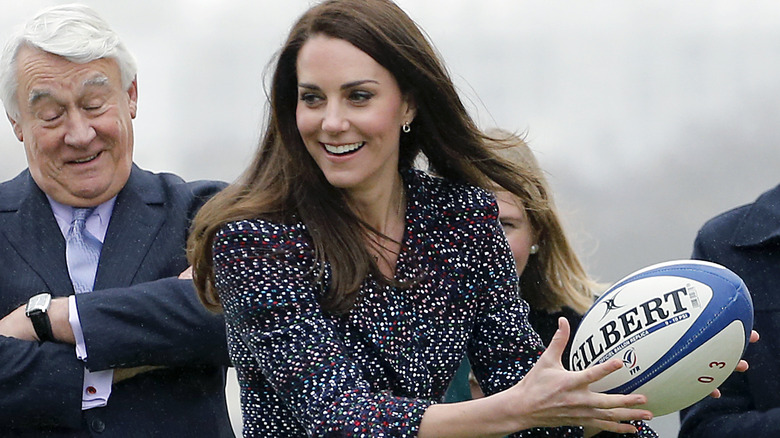 Chesnot/Getty Images
Earlier today, it was announced that Kate Middleton would be taking over two of Prince Harry's patronages with the Rugby Football Union (RFU) and Rugby Football League (RFL), per The Sunday Times. These patronages were handed down to Middleton from Queen Elizabeth, who had stripped Prince Harry and Meghan Markle of their patronages after they stepped down from their royal duties in February.
According to the Daily Mail, Prince Harry began serving as patron of the RFU in 2016 and the RFL in 2017. Upon resigning from their royal duties, Buckingham Palace issued a statement regarding the status of those patronages that the Sussexes once held. "The honorary military appointments and Royal patronages held by the Duke and Duchess will therefore be returned to Her Majesty, before being redistributed among working members of The Royal Family," the Buckingham Palace statement read (via Town & Country). The status of the other patronages previously held by the couple is still unknown.
Many believe that Middleton will be championing the RFU's "Inner Warrior" program that is working to recruit more female players into Great Britain's rugby clubs, per the Daily Mail. Middleton is also a patron of mental health organizations like Place2Be and other British sports organizations like All England Lawn and Tennis Croquet Club, the Lawn Tennis Association, SportsAid, and the 1851 Trust, according to The Sunday Times.