Royal Author Predicts Prince Harry Could Move His Family Back To The UK If This Happens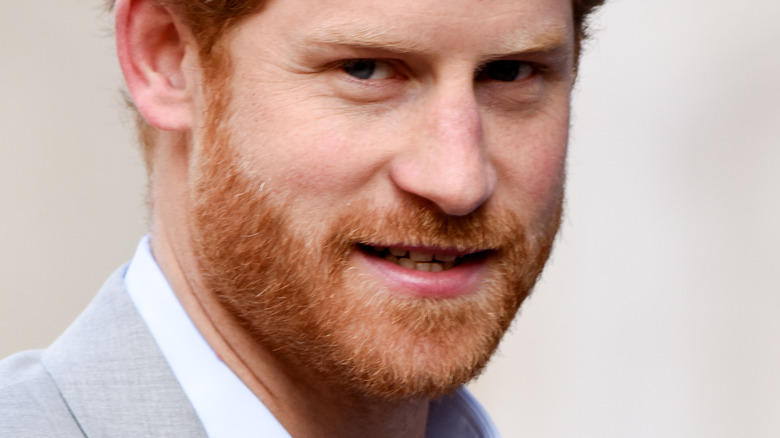 Shutterstock
Prince Harry has returned to California after a trip to the U.K. for the unveiling of a statue in honor of his late mother, Princess Diana (via ET). Also in attendance at the unveiling was Harry's brother, Prince William. The two have been at odds since Harry and his wife, Meghan Markle, decided to do a tell-all interview with Oprah Winfrey in March, discussing why they left the royal family. However, both Harry and William wanted to make the special occasion all about their mother rather than their recent feud. 
Royal expert Katie Nicholl even said the two "clearly went to a lot of effort to deflect from this rift between the two of them" at the ceremony. They even "seemed relaxed in each other's company," which is far from the rumored quarrel that happened at their grandfather's funeral back in April (via People). If the two brothers were able to reconcile for good, some wonder if that would be enough for Prince Harry and Meghan Markle to move back to the U.K.
Prince Harry's recent trip to the UK may have him 'missing his old life'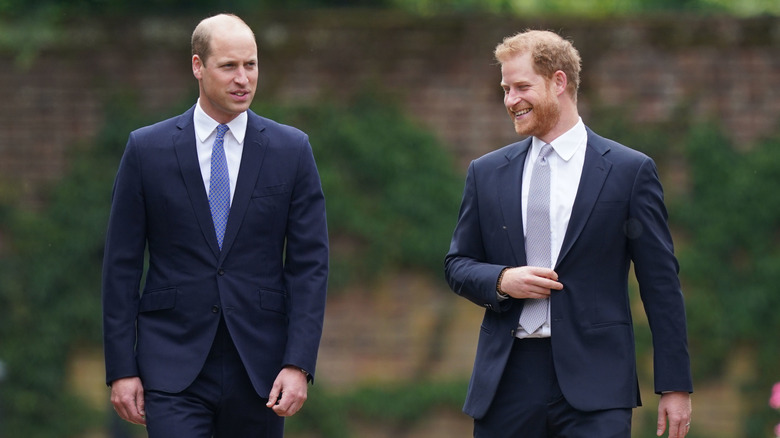 Wpa Pool/Getty Images
It seems as though Prince Harry's trip overseas does have him questioning his move to the U.S., at least according to one royal author. Speaking to Closer Weekly, Duncan Larcombe speculated that "coming back and seeing his brother, especially against the very moving backdrop of a memorial for their mother, will maybe make him question what he's given it all up for" (per Closer via OK! Magazine). Larcombe even believes that Harry's recent trip "may have him missing his old life."
It was reported by Marie Claire that when Harry returned in April for Prince Phillip's funeral, he even planned a "lads' lunch" with some of his oldest friends. A source close to the Daily Mail said that this get-together showed signs of Harry "wanting to reconnect with his old life" that he kind of set aside after getting married to Meghan. While it's all speculation and Harry is allegedly "loving the American life now," Larcombe wonders if he'll regret his decision to leave once the "honeymoon phase" is over.
If Harry does want to move back to the U.K., Cafe Mom reports that he could technically fulfill all his work obligations, like his recent deals with Netflix and Spotify, from anywhere. The only issue would be getting Meghan on board with the move.
If Harry wants to move back, he has to convince Meghan to go back to their old lifestyle as well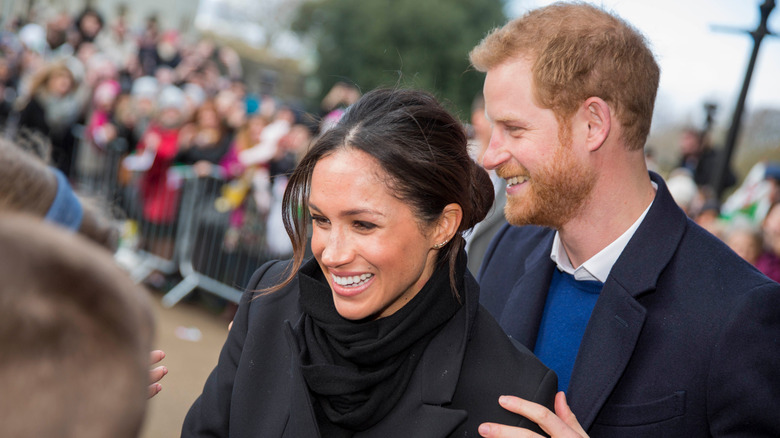 Shutterstock
The main reason for Harry and Meghan's exit from the royal family was over the bullying and abuse that the couple endured from the British press (via ABC 7). However, in their Oprah Winfrey interview in March, it was revealed that Meghan also dealt with a lot of bullying from within Buckingham Palace as well that even made her not "want to be alive anymore," according to CNN. 
For their own mental health, the two decided to step down from their duties and start a new life in California. Larcombe believes that with this decision Harry "totally sacrificed relations with his family" and put Meghan's "needs first" (via the Daily Mirror). If Harry really is questioning his decision to leave his friends and family behind for this new life in the U.S., he'll need to consult with Meghan and look for a compromise that works for the both of them. 
However, it's not just Meghan who needs convincing. Since the couple's exit, it's also driven a huge wedge between Harry and his family. While Harry and William seemed on good terms at the Princess Diana ceremony, it's been reported that a reconciliation between the two is "unlikely" as long as "Meghan remains on the scene" (via the Daily Express). It seems there is still a lot of healing that needs to happen before any big moves can begin.