The Truth About Taylor Swift And Emma Stone's Friendship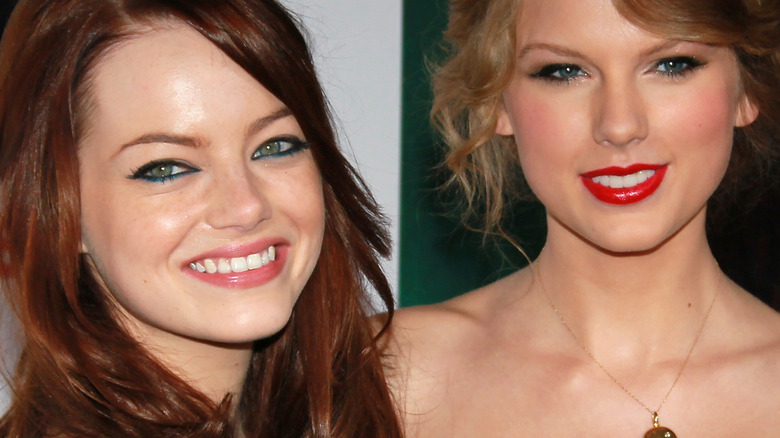 David Livingston/Getty Images
Taylor Swift has always put her female friendships on full display. Over the years, she's hosted numerous Fourth of July parties, called her famous friends onstage during her incredible live shows, and even recruited a few notable ladies for her iconic "Bad Blood" music video. This girl gang was affectionately referred to as Swift's "squad" and included women like Blake Lively, Karlie Kloss, Cara Delevingne, and Selena Gomez, to name a few (via Insider). One of the most forgotten members of Swift's squad, though, is Emma Stone. Yes, that Emma Stone!
Unless you're a diehard Swiftie, you've probably forgotten the golden era of Swift and Stone's friendship. According to Cosmopolitan, the two became friends way back in 2009 after exchanging emails with one another. Swift even accompanied Stone to the premiere of "Easy A" in 2010, which seemingly cemented their friendship in squad history. There haven't been any reports of a feud or fallout between these two, but eagle-eyed fans have been quick to notice that Stone has fallen off the friendship radar in recent years.
Taylor Swift once considered Emma Stone a close friend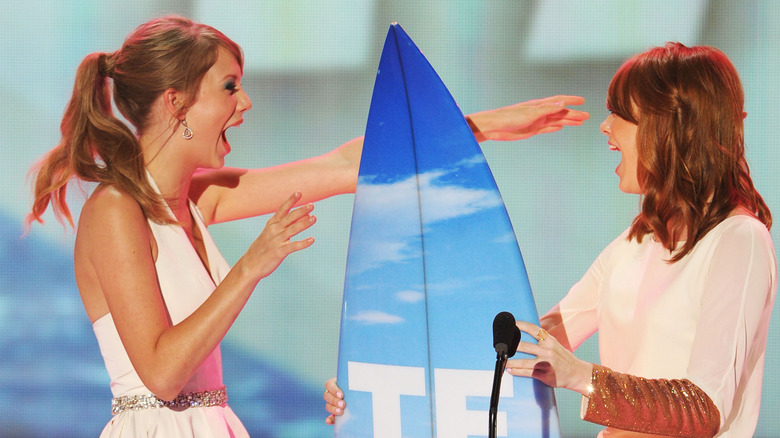 Kevin Winter/Getty Images
It seems hard to believe now, but there was a time when Taylor Swift referred to Emma Stone as one of her closest friends. Swift said in an interview in 2011 with PopSugar (via Cosmopolitan), "My friends are amazing and I'm so thankful to have them, [but] the ones that are like sisters to me are Selena Gomez and Emma Stone ... They can predict my thoughts; I've known them for so long it's really cool to have friends that are that close."
Swift reiterated the importance of her friendship with Stone in an interview with Access Hollywood in 2012, where she stated, "It's just so important to have people that you trust and Emma and Selena and I, we've had so many things in our lives that have changed over the last couple years, but our friendship has stayed the same. So that's really good." The two were seemingly inseparable for years, often photographed together on ice cream dates and at red carpet premieres (via E). They even spent time together in Paris, which is an automatic indication of commitment.
These two powerhouse females may have simply drifted apart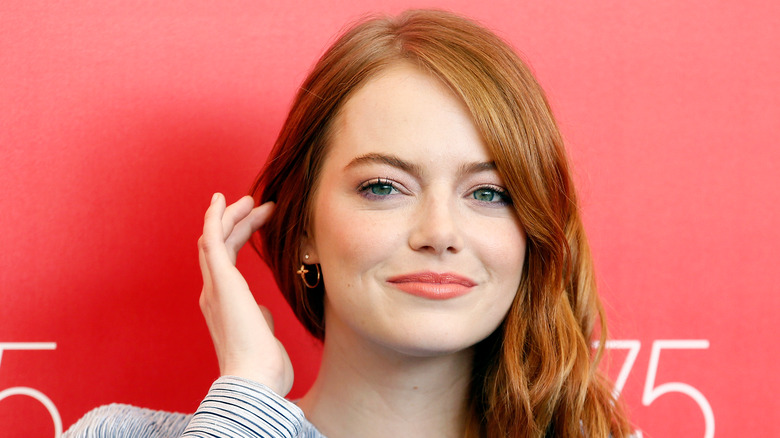 Shutterstock
Emma Stone was at the forefront of Taylor Swift's squad up until 2016, when the two were still being photographed together with their close mutual friend Jennifer Lawrence. Stone was even present at a few of Swift's "1989" tour dates — though she was never brought up on stage like other members of Swift's squad during those memorable shows. Was this an indication of trouble in paradise? It would seem so, as the two have not been photographed together in recent years. The sudden shift came as a shock to fans who were left in the dark as to why the dynamic duo stopped hanging out so abruptly.
In 2020, Stone was interviewed by People where she answered a fan question about her favorite song off Swift's recent release "Folklore" (via YouTube).
"... I like so many of them. That's almost impossible, actually ... I really love this song, 'August' right now. I was just listening to it earlier today. But I like so many of them, so it's very hard to choose." It would appear as though the two are still friendly, and neither has spoken about the demise of their once-promising friendship. It might be a case of bad blood, or maybe they've simply drifted apart over time as their lives continue to change. Sometimes, it's hard to tell.