Here's What Zoey 101 Star Paul Butcher Looks Like Today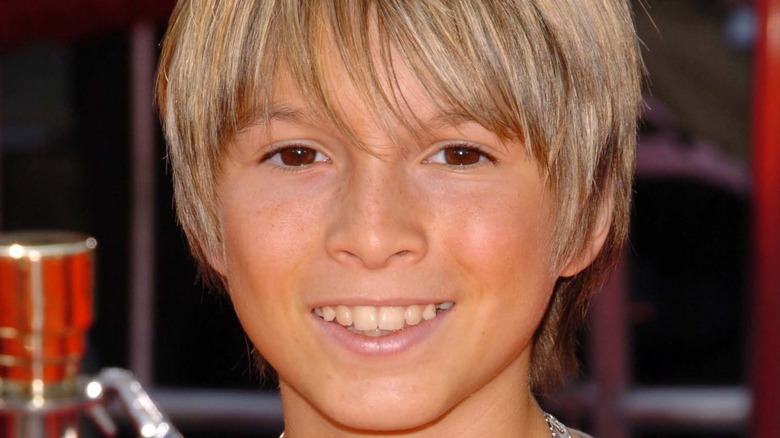 Shutterstock
"Zoey 101" followed the titular student, a teenager living in room 101 of a stylish boarding school called Pacific Coast Academy (swoon), as she navigated life, love, and loss alongside a gang of lovably eccentric friends (via IMDb). Although it only ran for four seasons before getting canceled (but not for the reason everybody thought at the time), "Zoey 101" made a significant impression on its young audience. Lead Jamie Lynn Spears, the younger sister of Britney Spears, has obviously had the biggest post-Nickelodeon career. 
However, her co-stars have carved out memorable spots for themselves alongside Spears, whether they've continued acting or branched out to make waves elsewhere. Although everybody has transformed to a certain extent, Paul Butcher has understandably had the biggest glow-up of all, since, as Zoey's little brother, Dustin, he was among the youngest members of the cast. Suffice to say, the mop-headed cutie we all remember from PCA is now a totally gorgeous scene-stealer in his own right. 
Zoey's little brother is all grown up
Paul Butcher was just 11 years old when "Zoey 101" debuted in 2005, but the young actor actually had several take-notice roles on his slate prior to becoming a Nickelodeon star, including on "Six Feet Under," "That '70s Show," and "NYPD Blue" (via IMDb). While playing Dustin, Butcher also enjoyed a lucrative recurring gig on "King of the Hill," but once he wrapped on both, Butcher returned to live-action work with the likes of "My Music" and "Destiny 7," among others. As his Instagram showcases, Butcher is also something of a musician too, proving his classic song "The Gummy Worm Blues" wasn't a fluke (via Facebook). He released a single called "Freaky" in October 2020, according to Apple Music. 
Naturally, Butcher hasn't forgotten where he came from either, with the actor and singer frequently posting funny Dustin-themed videos to social media (via Instagram). He even quipped about how little interest there seems to be in other content (via Instagram). He remains close with "Zoey 101" co-stars Sean Flynn (Chase) and Matthew Underwood (Logan), as evidenced by an Instagram video he shared of the trio dancing together in late 2020. The former child star also continues to tease a reboot, per Instagram. The principal "Zoey 101" cast reunited for a special "All That" sketch in July 2020 as noted by ET at the time, so clearly all hope is not lost just yet. For the time being, though, Butcher seems suitably booked and busy.