This Is How Much Money Donald Trump Has Raised Since He Left The White House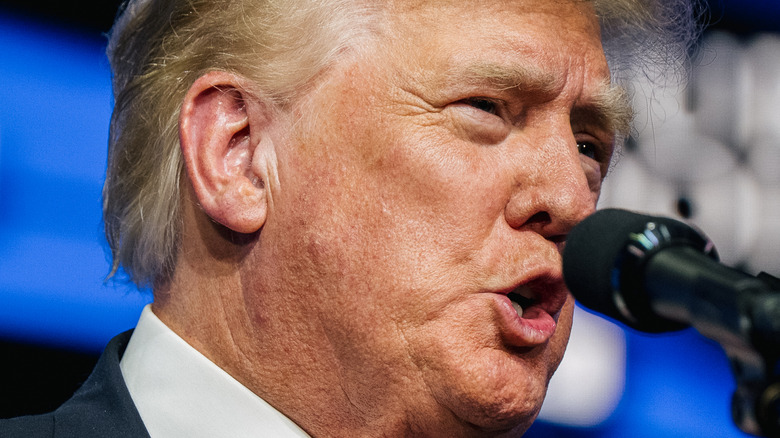 Brandon Bell/Getty Images
No matter where you might sit on the political spectrum, there is one thing that you'll have to give former president Donald Trump credit for — and that's having built an efficient fundraising machine. Fundraising efforts have allowed Trump's political action committees Save America, and Make America Great Again, as well as a third fundraising arm, to gather up a political war chest with a head-turning total of $102 million. Much of that cash was raised from supporters who believe the big lie, and that election fraud cost the Trump the 2020 election (via Politico).
While Trump staffers told The Washington Post that their boss had raised $82 million of that total during the first six months of 2021, the bulk of that amount was actually the result of transfers from other accounts which had been raising funds last year. Still, it must be recognized that Trump's record campaign haul is, in Politico's words, "unprecedented," because in no time throughout the history of the United States did a former president manage to raise more than a hundred million to fund his own political machine. Trump raised more money than the GOP's House and Senate fundraising groups combined, and only sightly less than the Republican National Committee did.
Donald Trump urged his supporters not to send money to the GOP, but to him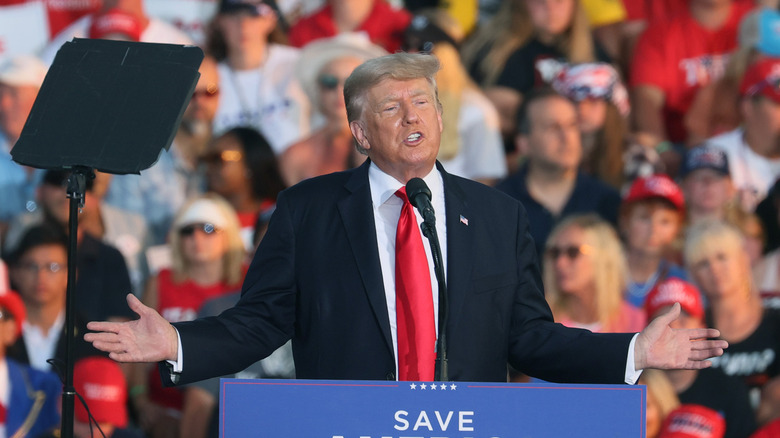 Scott Olson/Getty Images
There are a few reasons why Donald Trump has done so well on the fundraising front — he's told his supporters that they should only be sending money to him, and not to the GOP as a whole. As he said during the Conservative Political Action Conference in February 2021, "There's only one way to contribute to our efforts to elect 'America First' Republican conservatives and, in turn, to make America great again," Trump said, "and that's through Save America PAC and DonaldJTrump.com" (via The Washington Post).
Also, as The New York Times reported, some of the funds that came in through the Make America Great Again Committee have done so under a cloud. Supporters who chose to send money once accidentally ended up making regular, repeat donations because they didn't read the fine print, and didn't uncheck preselected boxes. The matter was so serious that the campaign ended up having to issue refunds worth more than $64 million by the end of last year – The New York Times also reported this practice continued into 2021. 
It's unclear what Donald Trump plans to do with the money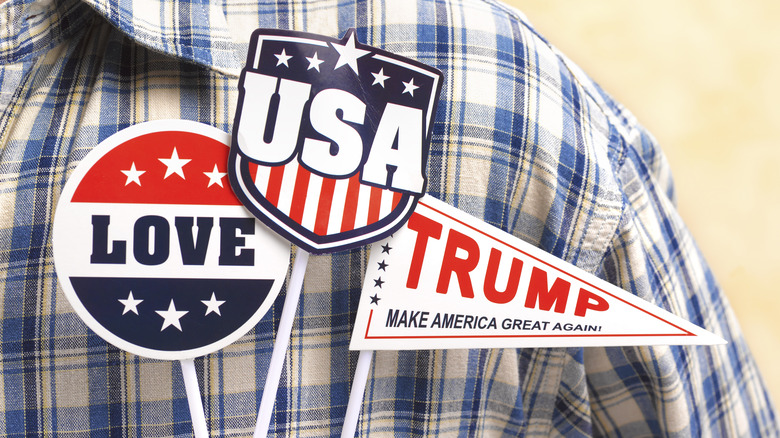 Peter Dazeley/Getty Images
No matter how big Donald Trump's war chest is, no one is still clear on what it is he plans to spend it on. As The Washington Post pointed out, he could use it to fund a 2024 run for the White House. He could use it to pay for unspecified travel and political activities meant to influence 2022's midterm elections. He could even use the money in the event the Trump Organization's legal troubles overwhelm his personal finances.
And even though he's proven his mettle as a fundraiser, Trump doesn't appear to want to spend very much of the cash he's got in hand. He has only written checks worth about $3 million in total — the lion's share of that amount went to a pro-Trump research group, and $68,000 went to his hotels (via CNN). None of the cash went to any of the candidates he has endorsed, and whose own fundraising activities have fallen behind those of their competitors. For example, Reuters, which also reported on Trump's war chest, pointed out that Alaska Senator Lisa Murkowski has more funds at her disposal than her Trump-endorsed rival, Kelly Tshibaka. Time will tell how the twice-impeached president will roll out his cash.