Everything You Need To Know About The Korean Marble Nails Trend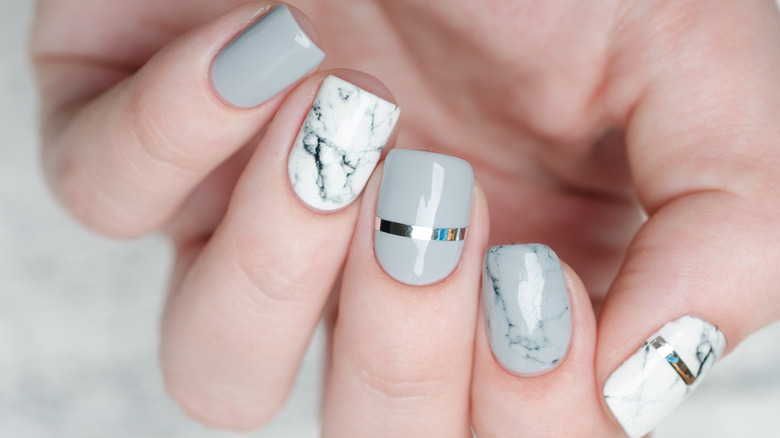 Shutterstock
Lockdown got you down? Why not try to lift your spirits by doing something fun and cute for yourself? Perhaps one of the easiest ways to do this is trying a new nail trend. It can be hard to keep up with them because there are always so many to choose from, but nail trends are cute and often easy, making them perfect to try at home. Plus, once you spot one you love, you can spend countless nail coats trying new takes on it.
You could try a uniquely summer-y trend, the abstract nails trend, or even the ombré nails trend, but you'll also want to try the marble nail trend from South Korea. This trend is exactly what it sounds like in terms of its aesthetic. According to PopSugar, this nail trend will have your nails looking exactly like the marble you would see in a bathroom or a kitchen. You know the kind — the white surface with darker swirls in it that's elegant, moody yet light, and chic. The best part, though, is that marble doesn't have to be white. You can venture into darker marbles, pastel marbles, or any other marble you want to create.
This is the one trick you need to create perfect marble nails
Marble looks are perfect for nails because the nail surface allows for intricate details, such as the swirls that make marble so hypnotic to begin with. The marble look is also particularly great because you can make traditional marble designs, as noted by PopSugar, or you can add a marble flourish to your existing nail colors and designs, according to Byrdie.
"The design imitates a texture you can't get with regular polish, so for an easy look, you can pair your favorite color with this unique finish," explained Byrdie on this trend.
The trick with the marble trend is to accent your colors correctly. For example, if your base nail polish is a medium to dark shade of pink, you can marble it with white and light pink to create the perfect marble contract. This gets at the trick of marbling — always use a very light shade of the base color in combination with white to create your marbling. Or, on the contrary, if your base color is a very light shade, always use a dark shade to marble with. If the shades are too similar in color, they'll blend together, so you need to ensure that they're opposite enough.
With this knowledge in mind, why not try a marble nail this summer?