The Most Popular Sculpting Bar That Jennifer Aniston Would Approve Of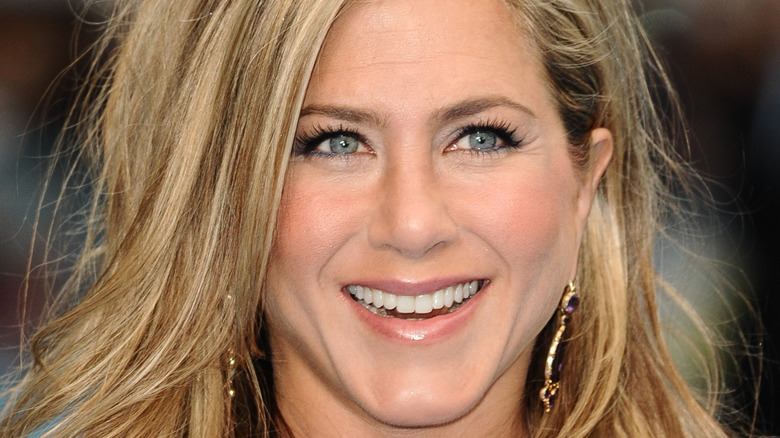 Shutterstock
We may receive a commission on purchases made from links.
Jennifer Aniston's morning routine is seemingly simple: "I wash my face — my whole face regime is just soap and water to wake myself up, then some sort of Aveeno daily moisturizer that's got SPF in it. It's quick," she told Well+Good in 2018. The actress, who's skin reveals nothing of her age, has adhered to this ritual since she was a teenager, she revealed to InStyle in 2019. However, Aniston's made a few updates to her skincare regimen since then, and imitating her routine just got a little more expensive.
Before we get into the more costly items, Aniston's recipe for immaculate skin adds a few other products to the mix: a glass of celery juice, superfood supplements and collagen, per InStyle. "There's a collagen [powder] peptide that I've been loving — I've been seeing a difference! My nails are stronger and there's a healthier... how do you explain it? A glow. It's sort of that working from the inside-out thing," she told Byrdie. It's important to acknowledge that while the Aveeno may help, Jennifer Aniston's holistic approach to wellness and eating is an important cheat sheet you'll need for transforming your skin.
Now, on to that big-ticket item Aniston loves...
Jennifer Aniston uses gold in her skincare routine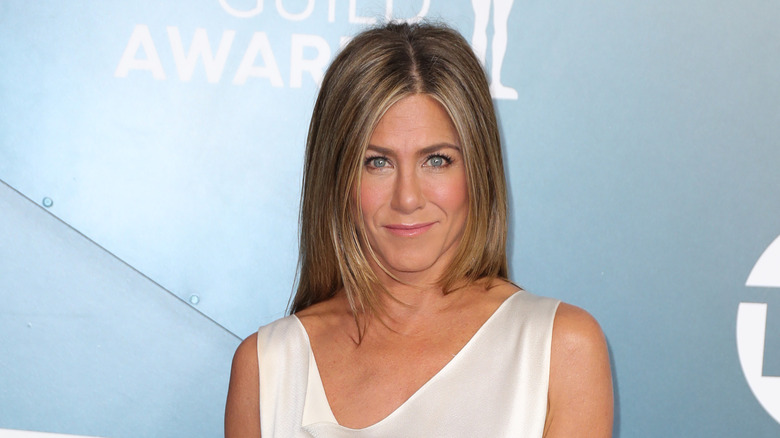 Leon Bennett/Getty Images
Jennifer Aniston swears by a 24-karat gold sculpting bar that is priced just a little higher than the $15 moisturizer she uses from Aveeno (via Hello Magazine). Setting you back $195, the vibrating bar is makeup artist Jillian Dempsey's most-coveted skincare product. "It feels so damn good to put oil on your face and just roll," Aniston tells InStyle. Dempsey's resume is as star-studded as you would think — Julia Roberts, Gwyneth Paltrow are only a few of her clients — making it easier to trust the $195 process (via Goop). Plus, she's married to Patrick Dempsey, who uses the product as well.
Jillian Dempsey was inspired by Japan for her gold-plated product, she told Goop. "There's a strong traditional belief in Japan about the benefits of metals and gold, specifically for skin." The vibrating bar gives users the benefits of traditional facial massage while temporarily sculpting the facial muscles. Considering that this is one of Jennifer Aniston's go-to's, it isn't surprising that the actress is a regular at celebrity facialists. She listed her favorites, one in each city, to InStyle. "Georgia Louise in New York, Lupita at Mila Moursi in Beverly Hills, Joanna Czech in Dallas and New York, and Melanie Simon in Montecito, Calif." Ah, to be a celebrity.