The Crazy Way Clint Harp Found Out About His Magnolia Network Show - Exclusive
When we think of Clint Harp, we think of gorgeous carpentry. But Harp has a lot more tools in his belt (see what we did there?) and due in part to his new show, "Restoration Road," we're getting to see a whole new side to everyone's favorite woodworker. Early fans of Chip and Joanna Gaines know Harp from his appearances on the original "Fixer Upper." When a custom piece of furniture was needed, Harp was always the guy that Jo called. Not only are his creations beautiful, but Harp brought an engaging, thoughtful, and entertaining presence to the show. He was reliable each and every time, and always delivered gorgeous results.
What early viewers of "Fixer Upper" might not have envisioned was an entire Magnolia Network, but Chip and Jo have gone on to create an entire channel's worth of programming. Unsurprisingly, one of the new Magnolia shows features none other than Harp, but viewers get to see him in a whole new light. "Restoration Road" follows Harp as he travels the country and helps people restore old properties (or even an old train car in one episode). The show brings the old back to life, and viewers get a good dose of Harp and history all in one sitting. There's something calming and nostalgic about the show, but those words do not describe the ways in which Harp found out about his newest venture. This is the crazy way Clint Harp found out about his Magnolia Network show.
Clint was chaperoning his son's class trip when he got the call about his Magnolia show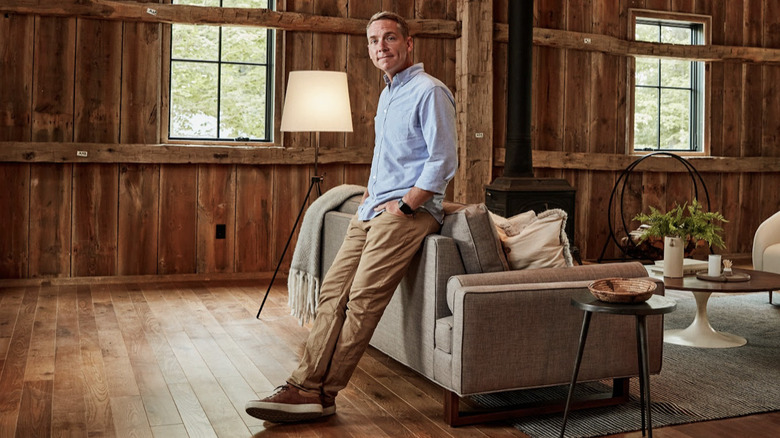 Courtesy of Magnolia Network
Before Clint Harp's role as a carpenter or restoration guru, he's a dad, and it was during dad duties that he found out about his Magnolia Network show. But there's a big story that goes along with it. It was May 2019, and Harp was chaperoning his son's sixth-grade class trip, but he was expecting a phone call from Magnolia executive Sarah Kuban. At that point, Harp had done some test pilots that hadn't gotten off the ground, but it was a text from Kuban that changed everything. "Hey, Clint, you have time to talk next week? Chip and Jo, they want to do a new show with you on the new network," the text read. Harp was in, but there was a spot of trouble just ahead. 
The call was scheduled for the Thursday of his son's school trip, and it just so happened that Harp was in the "middle of nowhere." He had the phone call scheduled with Kuban and Allison Page, the president of the Magnolia Network, and he was chomping at the bit. "Of course, I'm looking forward to Thursday because I'm like, 'I want to hear what this is. What's this idea? I want to know more. I don't know anything. I just know that Chip and Jo want to do something with me,'" Clint said. "Thursday comes, and I get in my car and I drive and there's no signal. Of course, I've got this phone call. I had left with enough time to get to the town, but I thought I took a wrong turn and I didn't know where I was, and I had no signal for my map thing to work. It's panic mode," he said. Talk about the worst kind of situation to be in.
A technical mishap almost stopped Clint from hearing from the Magnolia execs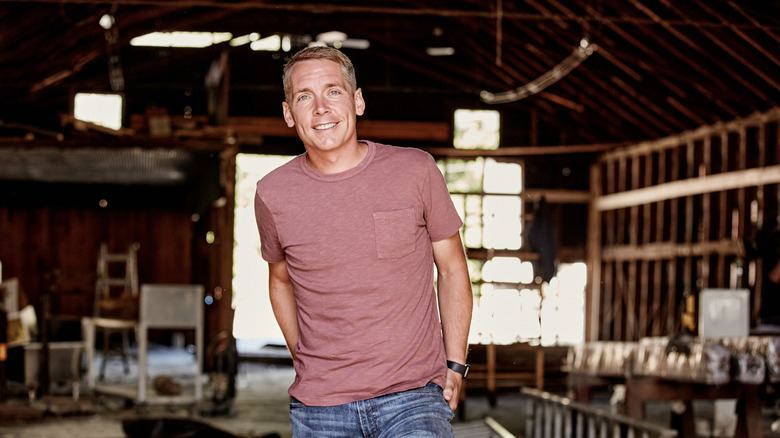 Courtesy of Magnolia Network
Picture it. You're up for the best job of your life, you've done the legwork, and now you're just waiting to hear from the higher-ups. It seems like everything is aligned, except for one thing — you have no cell service. That was the situation that Clint Harp found himself in when he was about to hear from the Magnolia Network executives about his new show, "Restoration Road," and the way he described the situation to The List sounded beyond stressful. While in the "middle of nowhere" for his son's school trip, Harp traveled back into town to try to find some sort of service. Without a map on his phone (again, no service) and a general sense of panic, things were stressful. He finally made it into the parking lot of an old fire station and got a signal — albeit a weak one.
"I had one bar and I called Sarah [Kuban]. Thankfully, Allison [Page] had been talking with some big wigs up at the network and whatnot, and so she had to be a few minutes late," Harp said. Talk about divine timing. After chatting with Kuban about their work in the past and the pilot shows that they had worked on together, Harp and the exec were joined by Page, and she presented the concept of "Restoration Road." Harp was hooked. "This is what Chip and Jo want to do," Harp said Page told him. "They want to make a show about old structures being turned from old to new." All of this, of course, was taking place in Harp's truck while he sat in a parking lot, with the stress of a weak cell signal. "I'm just going, 'Yes, great. This is fantastic,'" Harp said of the experience. Talk about a whirlwind.
Magnolia Network's slate of original programming launched July 15 on discovery+ and inside the Magnolia app.