How To Pull Off The Viral Criss-Cross Crop Top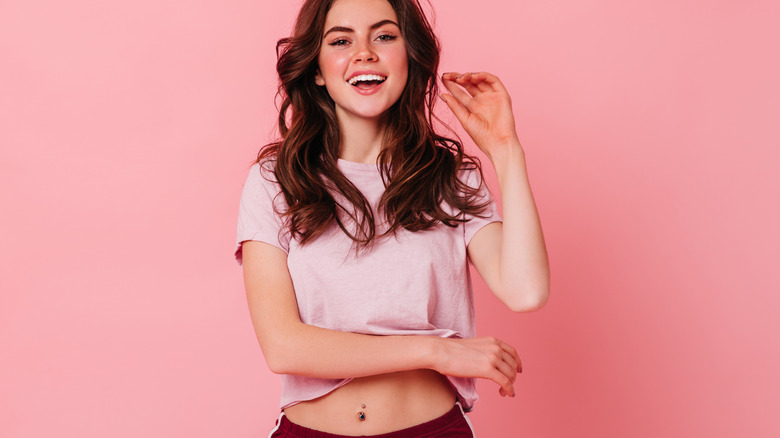 Shutterstock
Social media makes it possible for us to see the latest fashions and styles instantly as soon as they go viral. When influencers and celebrities find something they love, they post it all over the web faster than their fingers can purchase it in every color. With TikTok and Instagram being as big as they are, everyone around the world constantly finds the items online through tagging and comments, instantly purchasing it for themselves, too.
One of the latest styles to go viral online has been the criss-cross wrap crop top. The top, which has been sold on sites like SHEIN and ASOS, the top comes in a multitude of colors and even strap thickness. Perfect for a summer night out or a date night with your significant other, the top can turn any casual outfit into something fabulous and fashionable instantly. Still, many people are a bit unsure about how to style and pull off this kind of top — so we've got you covered.
How to pull off that viral top and make it fly
Many people are unsure how to totally pull off the criss-cross crop top, as it can look awkward with the wrong outfit. Fortunately, tons of influencers online have given us some fashion inspiration that we can use to bounce off of. 
If you're planning to wear the top in the summer, pairing a color one with a pair of white jeans makes it both summer-chic and also stylish, as evidenced by one Instagram user. Not only that, but if you get a lighter color top, it'll help make your tan totally pop. You can also pair the top with a pair of black jeans for a date night or a night at the bar for a more sultry and sexy vibe. If you're trying to rock it for a night out when the weather is a little chilly, throwing a leather jacket over the top can allow you to still pull off the criss-cross top, but also keep yourself warm. Plus, once you get indoors, you can always take off the leather jacket and show it all off. 
With the top being pretty open, you may want to shy away from a necklace. Instead, pairing with some statement earrings and a bracelet is the perfect way to accessorize when rocking this top, another Instagram user showed off.
There are tons of ways to rock this top, grab yourself one and get to styling!