Here's What High School Musical Star Corbin Bleu Looks Like Today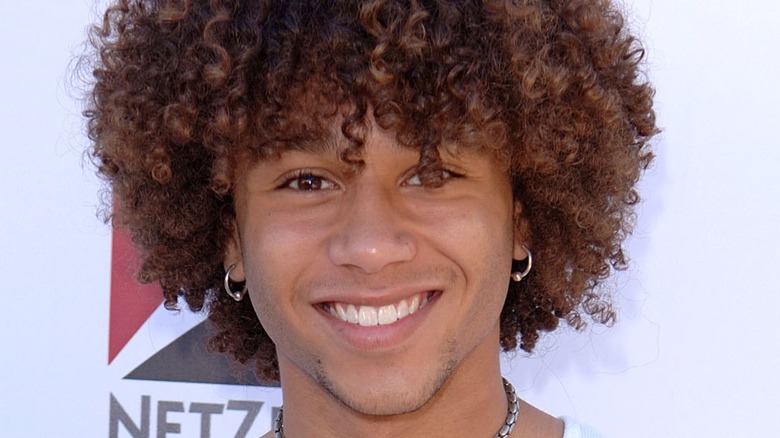 Toby Canham/Getty Images
"High School Musical" was a major moment for its young cast, from leads Zac Efron and Vanessa Hudgens all the way down to supporting characters including Ashley Tisdale, Lucas Grabeel, and Corbin Bleu (via IMDb). Despite the trilogy wrapping up with 2008's "High School Musical 3," interest in it remains high, as evidenced by the 2019 debut of spinoff TV show "High School Musical: The Musical – The Series," which immediately captured the attention of a whole new generation of fans. 
As Insider notes, the first film was released on Disney Channel in 2006. Following a high school sports star, played by Efron, and a timid nerd, played by Hudgens, "High School Musical" garnered attention thanks to its sweet central romance, catchy singalong songs, and impressive choreography. Unsurprisingly, the tie-in soundtrack was one of the best-selling albums of the year too. The various stars have gone on to bigger and better things. For Bleu, the stage kept calling his name.
Corbin Bleu took his talents to Broadway
As Insider details, following his breakout role in "High School Musical," actor Corbin Bleu took Broadway by storm, appearing in "In The Heights," "Godspell," and "Kiss Me, Kate!," among others. He emerged as the runner-up of "Dancing with the Stars" Season 17 and even found time to release two records along the way, as well as marrying fellow actress Sasha Clements in 2016 (the couple appeared on "Say Yes to the Dress"). His IMDb showcases Bleu's impressive command of TV and film, with parts in "The Middle," "The Good Wife," and "One Life to Live" sitting alongside horror flicks "Witches in the Woods" (in which Clements also appeared) and "The Monkey's Paw." Clearly, Bleu is capable of handling pretty much anything.
In 2018, he told Playbill that "In The Heights," the show that put Lin Manuel Miranda on the map, was an ideal choice for his Broadway debut. The positive reviews of his performance, given Bleu is a self-described "Disney kid," really filled him with pride even if fans' insistence on obsessing over his most famous role does make Bleu chuckle. Still, as the former Disney star acknowledged, "It's definitely a namesake and something that has led me to where I am today." In fact, Bleu started working for the House of Mouse much earlier, with the actor celebrating the 15th anniversary of hit teen show "Hannah Montana" on Instagram by reminding everyone he once appeared opposite Miley Cyrus herself.