The Truth About Donald Trump Jr's Messy Divorce From Vanessa Trump
Jeff Swensen/Getty Images
Of all Donald Trump's children, Donald Trump Jr. is the most like his father, per Vanity Fair. He is quick to speak out, takes to Twitter often, and has had a divorce messy enough to rival one of his father's (via Mercury News).
Donald Jr. was once married to former model Vanessa Trump. The couple tied the knot in 2005 and had five children together. Things seemed to be going well for the couple, but, as we've come to learn, things with the Trump family are rarely what they seem on the surface. Donald Jr. was accused of having an affair, but so was Vanessa. Things got so heated that Donald himself allegedly got involved in an attempt to save his son's marriage. "The president tried to intervene with Vanessa," a source with close ties to the Trump family told the Daily News. He was then upset when his attempt at marriage counseling didn't work.
This divorce was messy, and some of the facts have gotten lost as a result. So, what exactly happened between Donald Trump Jr. and Vanessa Trump?
They were both rumored to have had affairs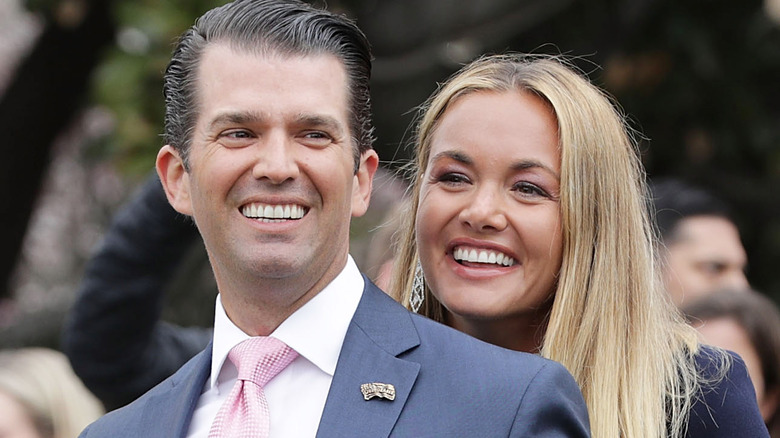 Chip Somodevilla/Getty Images
One of Donald Trump's passion projects before becoming POTUS was his television show "The Apprentice." It was so successful that it got a spin-off, "Celebrity Apprentice," which featured Audrey O'Day, a member of the girl group Danity Kane, as a contestant, per People. After O'Day's stint on the show, she began a relationship with Don Jr., even going as far as calling him her soulmate. The only problem? Don Jr. was still married to Vanessa Trump at the time. Their affair reportedly ended in 2012 when Vanessa found sexy text messages between the two.
However, those close to the couple believe their marriage was already over before O'Day came into the picture (per Mercury News). Reports even claim that Vanessa was having her own affair with a Secret Service member assigned to her family.
Clearly, the pair tried to work it out, as they did not officially divorce until 2018. Now, they have moved on. Donald Jr. is dating Kimberly Guilfoyle, while Vanessa Trump has maintained a low profile (via Yahoo News).