Does Simone Biles Want To Compete In The 2024 Olympics?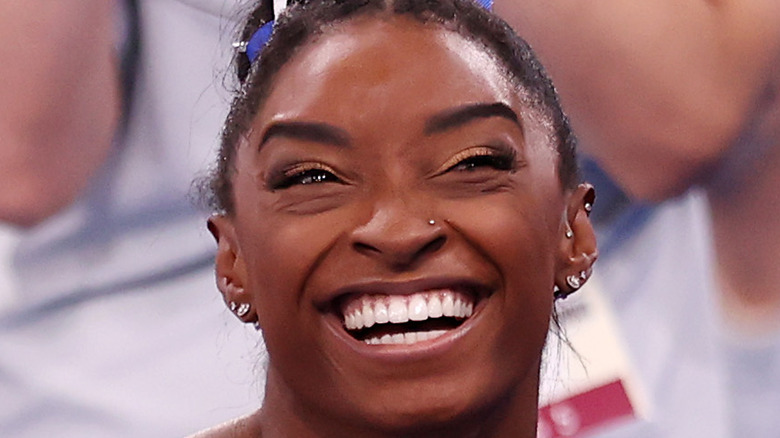 Laurence Griffiths/Getty Images
Simone Biles entered the 2021 Olympic Games in Tokyo with a lot of mental baggage in addition to the suitcases she brought on the plane. The gymnast is considered the best in her sport, and the world was expecting her to match — or even top — her gold-medal victories from Rio five years earlier. From Biles' stellar performance in the qualifying events — including a jaw-dropping new vault move — she seemed poised to dominate the field. When she and her teammates posed in their dazzling podium training leotards the day before competition, Biles' smile was as wide as ever.
As millions now know, that smile was actually a cover-up for the emotional turmoil happening within. The isolation of the pandemic had taken a toll on Biles' physical and mental health, leaving her less able to cope with the pressure of competition. As if that weren't enough, the gymnast had just suffered a death in the family, and a past trauma was affecting her more than she'd been willing to admit, not to mention the pressure on her was enormous. All this wreaked havoc on Biles' confidence and focus, leaving her with a disorienting sensation known in the sport as "the twisties." Rather than risk serious injury, she pulled out of the team event and three individual finals. Biles recovered enough to win a bronze on the balance beam – an honor she said meant more to her than all her previous gold hardware.
So is this the final bow for the gymnastics GOAT? The answer may surprise you.
Simone Biles isn't ruling out a comeback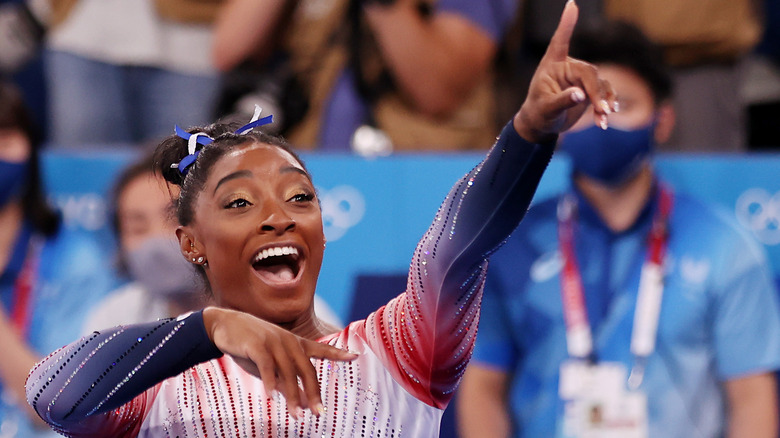 Laurence Griffiths/Getty Images
It would certainly be understandable if Simone Biles decided to move on. Even the best gymnasts tend to retire before age 30 — Biles is 24 as of publication. Her skill is unquestioned, and her place in history secured.
But Biles may yet have another Games left in her. During an interview with Hoda Kotb on NBC's "Today," Biles declared that she is "keeping the door open" for a possible return to competition at the 2024 Games in Paris (via the Daily Mail). If she did, she would be only the second American woman gymnast to compete in three Olympics; Dominique Dawes was the first (via USA Gym Legacy). This would also give her a shot at beating Shannon Miller's seven-medal total (via USA Gymnastics). 
For now, the courageous athlete will be focusing on her mental health. Biles plans to seek therapy to address the depression and trauma she suffered years ago at the hands of team doctor Larry Nassar, convicted of sexually assaulting the young girls in his care. But this experience, she says, has taught her something valuable. Biles told Kotb that she once thought her worth as a person was tied to her victories on the floor, beam, and vault, but her perspective is evolving.  "I'm more than my medals and gymnastics," she said. "I'm a human being and I've done some courageous things outside of this sport, as well, and I'm not a quitter. And ... I think if this situation didn't happen, I would have never seen it that way."