Why Taylor Swift Fans Are In A Frenzy Over Her Tweet About Simone Biles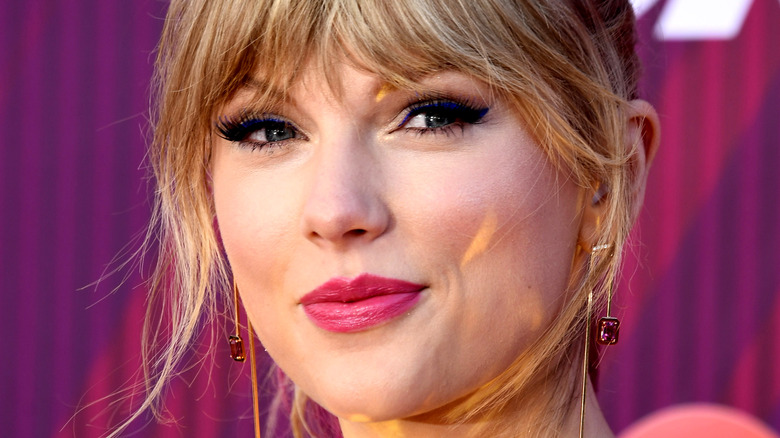 Frazer Harrison/Getty Images
Taylor Swift fans have gone into a frenzy over the singer's tweet about the U.S. Olympic athlete Simone Biles. According to People, the social media exchange came to be following the release of an NBC promotional video narrated by Swift, which included some of the highlights of the 2020 Tokyo games so far. During the video clip, the "Bad Blood" hitmaker can be heard referring to Biles as "a hero" (via Twitter).
"What do we want from our heroes? What do we expect from them? What do we need from them? What happens when they surprise us?" Swift asked. "When you have the attention of the world, everything you do takes on a bigger meaning. It can be a heavy burden. It can be a chance to change everything."
Referring specifically to Biles — who pulled out of multiple events at the 2020 games to focus on her mental health (via the BBC) — the Grammy Award winner added, "Throughout the last week, her voice has been as significant as her talents. Her honesty as beautiful as the perfection that had long been her signature. But don't you see? It still is. She is perfectly human. And that's what makes it so easy to call her a hero."
Responding to the Swift-narrated NBC video on Twitter, Olympic gold medalist Biles wrote on Tuesday, August 3, "I'm crying how special. I love you @taylorswift13."
Simone Biles responded to Taylor Swift's video in the sweetest way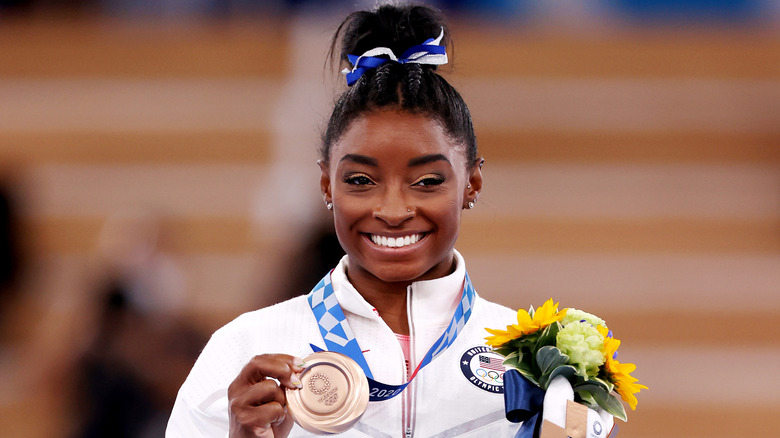 Jamie Squire/Getty Images
It wasn't long before the "Look What You Made Me Do" performer reacted to Simone Biles' kind words, and, replying to the Olympian's heartfelt tweet, Taylor Swift tweeted back, "I cried watching YOU. I feel so lucky to have gotten to watch you all these years, but this week was a lesson in emotional intelligence and resilience. We all learned from you. Thank you."
Unsurprisingly, fans of both Biles and Swift were very excited by the Twitter exchange. "You are both making me cry. women supporting women, you love to see it," NBC News reporter Doha Madani wrote on Twitter, while another enthusiastic fan tweeted, "WE BELIEVE IN TAYLOR SWIFT AND SIMONE BILES WORLD DOMINATION." Another Twitter user wrote, "you two have both had serious mental health resets during your careers, and have made such a difference in the world by having the courage to speak up about your struggles openly." 
And yet another tweeted, "This speech is so powerful and sweet I can't." One Swift fan stated simply on Twitter, "You have so much class, Taylor Swift." And still another social media user tweeted, "I really wish you are aware of the sheer positivity and encouragement your voice and words reflect. you doing this as someone who's one of the best to look up to means a lot to all of us. we love you so so so much. thank you for being the way that you are."