Everything You Need To Know About The Korean Cuticle Nails Trend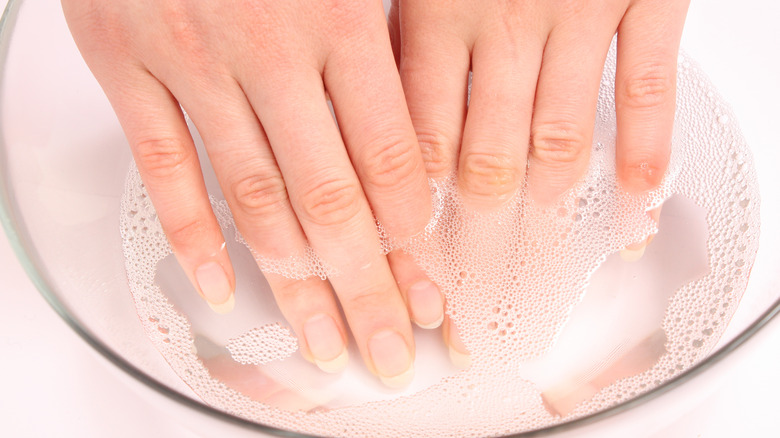 Shutterstock
You may have found yourself doing your nails at home amid the coronavirus pandemic, when restrictions caused many nail salons to shut down as COVID-19 ravaged the world. Whether you've gone back to professionals or you've continued to do it yourself, chances are you want some lower-maintenance styles, at least some of the time, since going to the salon or painting your own nails can be time-consuming. If so, the Korean cuticle nails trend may be for you.
Daily Vanity reported that Korean cuticle nails, also called shadow nails, originated with Unistella nail salon founder Park Eun Kyung. The trend, where color is applied at the cuticle of the nail only, is basically the opposite of a French manicure, where color is just at the tip of the nail.
It's an easy way to give your nails a hint of drama without committing to long drying time or an all-over color. "Giving cuticles tiny metallic tabs, also known as 'nail shadows,' embellish cuticles versus [screaming] for attention with all-over sparkle," beauty expert Sarah Lee of Glow Recipe told Byrdie. However, she pointed out that this unique style is "best suited for short nails." 
Here's how to get Korean cuticle nails
If you happen to have short nails and don't want to deal with the hassle of a full manicure, this fun fingernail trend might be for you. According to Sarah Lee, "[It] gives just the right amount of accent with almost zero drying time" (via Byrdie). The cute style gives you a pop of drama and color without all the potential mistakes and problems, like chipping, that a full manicure can bring. The best part? Because the color is applied at the cuticle, you don't need to touch it up as often as your nails grow out (via Daily Vanity).
To create a shiny pop of color at the base of your nails, choose a clear or neutral color for your nail and then add a metallic (or other finish) crescent moon sliver at your cuticle, according to Daily Vanity. You can also experiment with different shapes and thicknesses. The only limit is your imagination.