The Colorful Nail Trend That K-Beauty Experts Say Is Here To Stay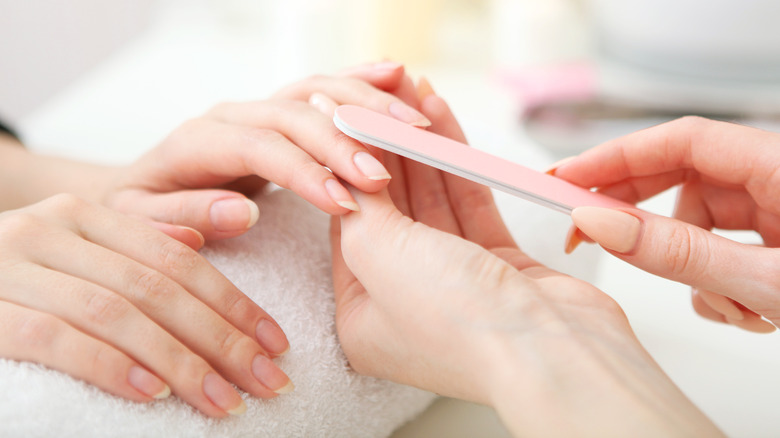 Shutterstock
If you're getting more and more obsessed with unique nail looks, you're not alone. As per Vogue, "the categories of nail design and art have exploded" in the last few years. Gone are the days of simple, ballet-pink manis and Old Hollywood candy-red nails every now and then. Now, it's all about "rhinestones, pearls, optical illusions, technicolor French tips and more." Celebs like Rosalía, Billie Eilish and Rihanna have set the stage for modern-day nail art, experimenting with cartoon graphics, charms, chains, and this Mexican Lotería-inspired mani we're still not over. While sticking to classic manis can be great too, why not treat your nail beds like high art every now and then? In short, unique nails are everything we want right now, and we can't stop experimenting with our manis. 
Korean nail aesthetics are soaring in popularity, giving rise to major trends like ombré "syrup" nails, holographic "diamond" nails, and even tattoo nails with doodles all over them (via Byrdie). While all that's well and good, you might prefer unique nails that don't necessarily incorporate super-daring graphics or embellishments. While Rosalía's golden, near-mythical claws in her "Aute Cuture" video will always be a mood, sometimes we want to keep it right in between special and down-to-earth, you know? Luckily, there's one major K-beauty nail trend that's been making the rounds since last year, it's exciting yet subtle, stylish yet perfectly fitting for the office or at elegant events. Curious? Here's everything you need to know.
This nail trend is chic and fun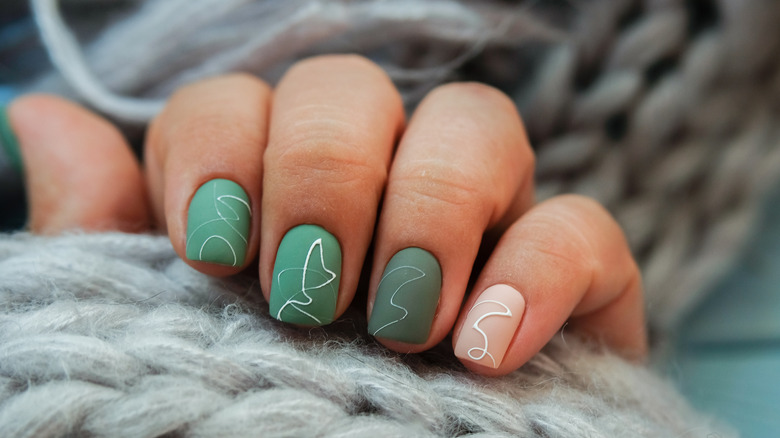 Shutterstock
So what's the über-chic nail trend that's bound to get you countless compliments this summer? As nail artist Jin Soon Choi told Byrdie, it's all about multicolor tonal nails. Trying out "a variety of tonal shades" on each nail will get you a gorgeous ombré look, "especially with a mix of either pastel or nude tones." Sure, we love technicolor rainbow nails (not just because they remind us of M&M's), but this look wins for its subtlety. The best tonal nails "incorporate different muted shades with the same color family," such as a neutral array of beige to chocolate-brown, or lilac to taupe to aubergine. Olive and June CEO Sarag Gibson Tuttle agrees, telling StyleCaster that it's best to choose polishes that "tonally live in the same world" for a creative-yet-sophisticated look.
Tonal nails are great when you can't pick just one color or when you want some nail art pizzazz without risking getting sick of your manicure too quickly. According to Choi, multi-shade tonal nails are great "for any age group," and can be spiced up with nail art. As Shoreditch Nails founder Tina Michael told Stylist, "Tonal nails are a grown-up and minimalist way to express personal style." Think of a perfect Meghan Markle-style outfit that incorporates different shades of red, drawing on chic bordeaux, a brighter crimson, and even a paler pink. Since "tonal dressing is such a thing right now," why not match your mani to your outfit?
Tonal nails inspiration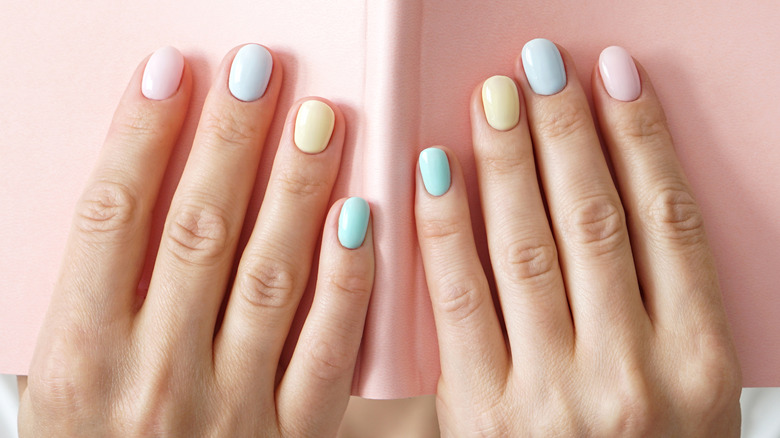 Shutterstock
As per StyleCaster, the tonal manicure trend is a kind of nail art "without any serious commitment" and is perfect for "on-the-go people who want to exert minimal effort, but also end up with a mani that looks kind of fancy." And there's just something about subdued, calming tones when paired just right: Paint expert Ruth Mottershead told Stylist that "an array of harmonious shades resonates with our senses and reminds us of the same palettes we see in nature." In essence, your tonal mani won't just look cute — it'll relax you every time you look at it.
About inspiration, Elle points us to a seriously tasty option: the "Tonal Toffee" manicure, featuring "warm shades of toffee, caramel and cinnamon in a chic understated twist." You can even add hints of "plum, peach, blush, espresso, or dark berry" if you want extra pops of color. Refined and sweet, this look is rich, luxurious, and works with any outfit or season. Still, if a neutral manicure doesn't really get your heart racing, Stylecaster assures "there are no rules" here. If you prefer crazier, neon combinations, go for it! In that case, grab inspiration from the famous "Skittles" manicure, which allows you to "embrace your creativity (and indecision) even further" (via POPSUGAR) with wildly different rainbow hues. Even a "Cookies and Cream" mani that fades from black to gray to white can be adorable -– when it comes to tonal nails, the options are limitless (and we love it that way!).