Everything You Need To Know About The Korean Negative Space Nail Trend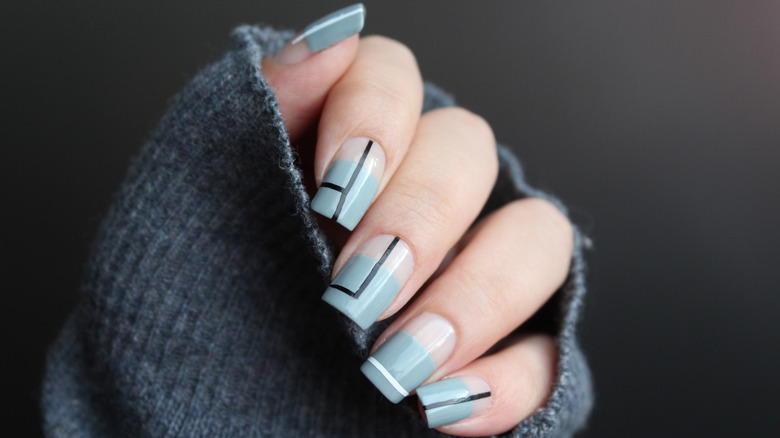 Shutterstock
K-beauty is a powerful magnet in the world of beauty products and trends. In 2017, South Korea's beauty industry was estimated to be worth just over $13 billion, according to research company Mintel. Its popularity in Western countries could likely be due to the explosion of K-Pop's popularity in the west. And it's not just boy bands, girl groups, skin and makeup products we're influenced by. Our manicures are also being heavily influenced.
"Nail trends in Korea tend to be simpler and cuter in style rather than flashy and spectacular,"  Sunny, the owner of Sunkuku Nail Art Studio in Seoul, told Allure. We're totally on board with the simple and cute shapes, colors, and even drawn on smiley faces. But there is one Korean-inspired nail trend that we'll be imitating ASAP: Enter negative space nails. That's right: Negative space isn't just used to affect architecture and interior design. It can also make for a memorable manicure. This is how to rock the trend.
In this case, negative is absolutely a positive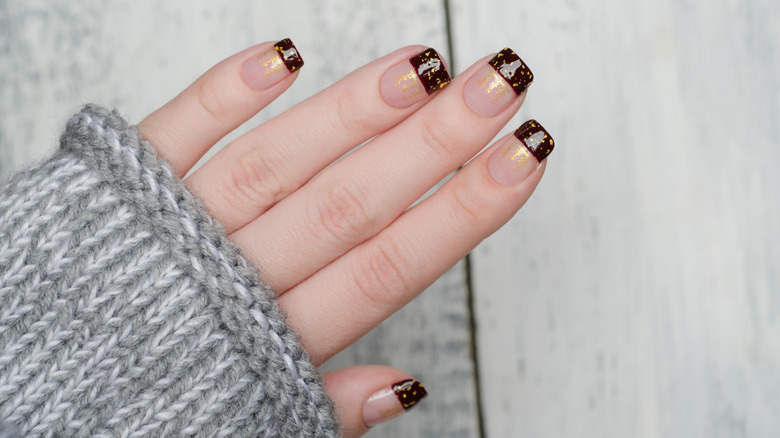 Shutterstock
Lately, manicure-obsessed people are choosing to leave a section of their nails exposed. Not only does negative space highlight bold graphics, but it's also "totally doable without a gel manicure," makeup guru Alicia Yoon, of beauty brand Peach and Lily, explained to Byrdie.
A manicure with negative space is anything but basic. You can add jewels, glitter, and use whatever color you're loving at the moment. Try using a piece of tape on your nails to help with painting straight edges and keep the look more polished (via Ipsy).
We're intrigued with this positively negative Korean nail trend. "South Korea's beauty industry is typically about 10-12 years ahead of the rest of the world," notes Marie Claire's digital beauty editor Katie Thomas to the BBC. If this is the case, then we're glad at least part of our nails will be exposed — and we're ready to take on what K-beauty inspires us with next.