The Weeknd's New Music Video Was Just Pulled Over This Scary Health Concern
Gp Images/Getty Images
The Weeknd's latest single "Take My Breath" is set for release tomorrow, but how much of the music video will we be seeing? Over the past week, the singer has teased the video through his social media, and it was set to play in Imax theaters before showings of "The Suicide Squad," but it's been pulled due to one pretty scary health concern.
Per New York Post, the music video for "Take My Breath" features intense strobe lighting, which could trigger seizures in people with epilepsy, so the decision was made to pull it from theaters. However, fans who want to watch the video can still do so — just not before they go to see "The Suicide Squad." It'll be made available on YouTube tomorrow, as the track will also drop onto streaming sites (via Pitchfork). You might have already heard the single in an Olympics promo video for Team USA too, as it played while a host of female athletes showed off their skills.
The strobe lighting in the video could trigger seizures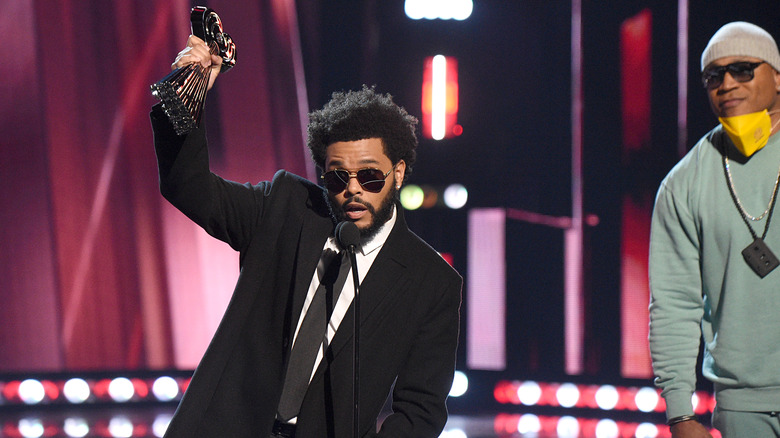 Kevin Mazur/Getty Images
"Take My Breath" is set to be the lead single from The Weeknd's upcoming fifth album. The 31-year-old, real name Abel Tesfaye, released his last album, "After Hours," in 2020, when it became his fourth number one album in the U.S., and also hit the top spot in the U.K. and his native Canada too. Containing the wildly-successful "Blinding Lights" (via Vulture), it saw plenty of success, which he'll hope to emulate with his fifth album.
The Weeknd's music videos and overall aesthetic is known for being quite dark, but with bright lights added for contrast — clearly, "Take My Breath" is to be no exception (via New York Post). However, you'll have to watch it at home if you want to view it. It won't be appearing before the likes of Margot Robbie, Idris Elba and John Cena appear on the big screen in one of the most hotly-anticipated movies of the year (via The News).