The Most Popular Jeans Of 2021 Revealed
Shutterstock
There's perhaps nothing better in life than finding the perfect pair of jeans. Shopping for denim can be tricky, but, once you find the style and fit you're looking for, you feel like a million bucks. 
And, while jeans are a wardrobe staple and always will be, there are certain styles that go in and out of fashion. Jean trends for 2021 center on a more vintage look and fit, per Who What Wear. Loose-fitting jeans are all the rage, with mom jeans coming in as the most popular. Another trendy jeans style of the moment is the vintage-inspired straight leg, which is truly timeless.
If you want to be on-trend this year, you've likely tried to find a killer pair of mom jeans or vintage straight legs. If your search has been difficult, have no fear. This list of the most popular jeans of 2021 will point you in the right direction. Whether you're looking for trendy mom jeans or classic skinnies, you will be on your way to finding the perfect pair for you.
The most popular vintage-inspired jeans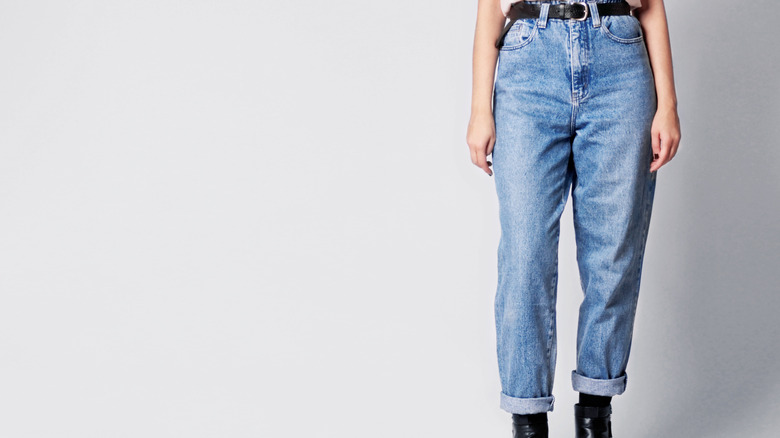 Shutterstock
The most popular pair of wide-leg, vintage-inspired jeans comes from the company best known for their denim, Levi's. The Levi's Wedgie Straight Jeans have an interesting name and rave reviews. According to Self, they're high-rise and sit in the perfect spot at your waist. They are flattering and have that faded vintage look everyone is craving.
If you'd like a more affordable option than Levi's jeans, Gap's High-Rise Cheeky Straight Jeans have a similar look while being a few dollars cheaper. These jeans are also said to fit perfectly. Hannah Pasternak, the associate director of special projects for Self, said these pants allow her to partake in the trend without having to get her pants tailored like she usually would. "I can attest that this pair gives off a cool '90s vibe without sacrificing fit in the process," she wrote. 
Seeking a solid pair of mom jeans? Look no further than mall staple American Eagle. The American Eagle AE Stretch Curvy Mom Jeans are affordable, stylish, comfortable, and flattering on a wide range of body types.
The best skinny jeans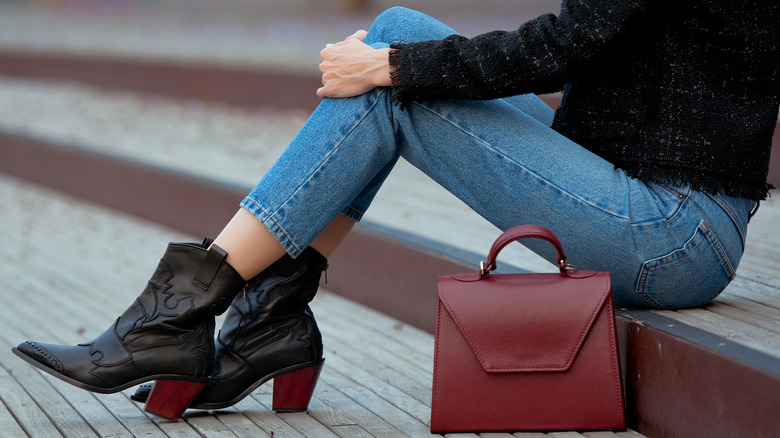 Shutterstock
While popular creators on TikTok may have ruled skinny jeans outdated, per The Guardian, many of us are still clinging to our favorite snug style of denim. Skinny jeans are a classic and are still wildly popular this year. In fact, on Self's list of the 17 most popular jeans of 2021, five pairs of skinnies were included. So, no need to panic! Skinny jeans are still in vogue.
If you're hunting for an amazing pair of skinnies to add to your collection, try the American Eagle AE Ne(x)t Level High-Waist Jeggings. Because they are jeggings, they're stretchy and comfortable. They run in a wide range of sizes, too, making them accessible to all body types.
Did you know that Spanx makes jeans? Well, they do, and the reviews for the Spanx Distressed Ankle Skinny Jeans are great. It makes sense, given that the shapewear brand is known for making everyone look snatched. One buyer stated, "Spanx all the way when it comes to the best jeans for women! These jeans have a great fit that's super comfortable, and I'm convinced they make me look more fit." Who else is ready to buy some Spanx jeans after reading that review?