The Best Makeup Setting Sprays For Oily Skin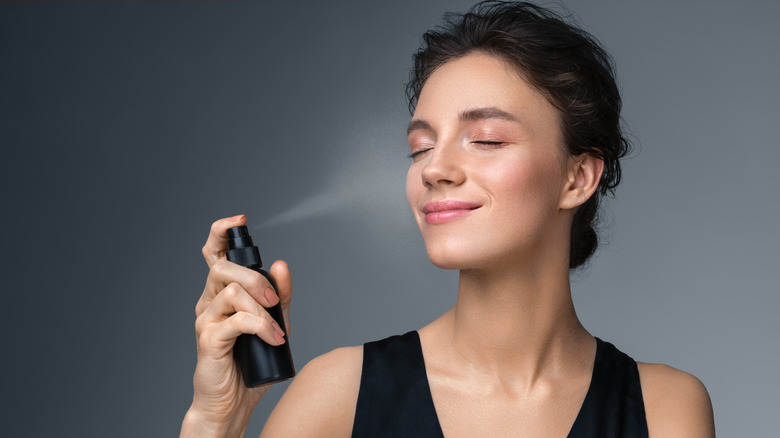 Shutterstock
We may receive a commission on purchases made from links.
There are several makeup products that we know we cannot live without. From concealers to primers to mascaras, there are those few products we just need in our daily beauty routine. For many people, a good setting spray is ideal when they want their makeup to last all day long. For special occasions or long nights out, applying some setting spray over your beauty look can seal in the glow for hours to come (via Byrdie). 
However, for many people who have oily skin, using a setting spray is something they keep off the table to avoid looking overly dewy and shiny. The last thing anyone wants is to look like they're sweating in the sunshine, when it's really just a glossy glow from that setting spray they applied before they left the house. Fortunately, there are some setting sprays that can work for people who are prone to oilier-than-average skin. This way, you can ensure your makeup sets all day long.
Opt for these setting sprays if you have oily skin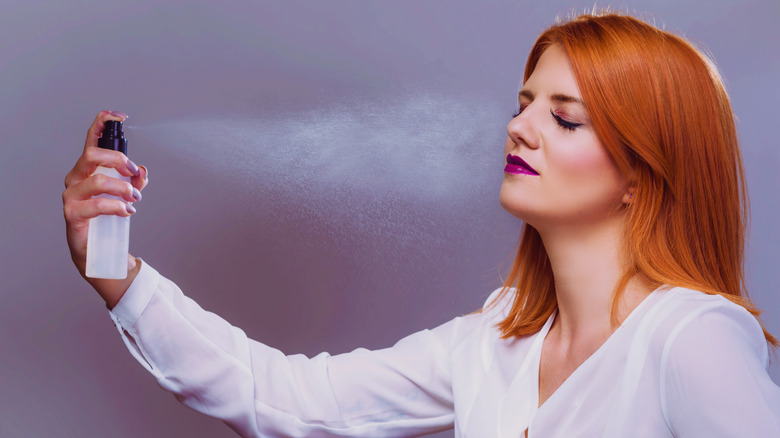 Shutterstock
When you're shopping for beauty products and your skin is prone to shine and oil build up, you want to try to make sure you read the ingredients and the name of each product. Any setting sprays that push that they are "moisturizing" and "hydrating" most likely are best to stay away from. Instead, try to pick up sprays that are more "matte" or even "oil controlling" (via Allure).
One of the most popular setting sprays on Amazon is NYX Makeup Setting Spray, Matte Finish. The spray costs only $9 and has over 60,000 positive reviews. Shoppers say that their makeup stays all day and night, and those with oily skin say that they have no shine or issue when applying this. 
Another great choice for oily skin is Urban Decay's De-Slick Oil-Control Makeup Setting Spray. The spray not only keeps your makeup in place the entire day, but it actually works to control the oil build up in your skin. The spray retails at Sephora for $33 and has tons of positive reviews. One user said, "This setting spray keeps my makeup in place, controls any oils that may come through, and prevents my makeup from melting in the hot weather." Sounds like a winner! 
In addition, if you want to save a bit of money, Rimmel's Stay Matte Primer and Stay Matte Setting Spray retails on Amazon for less than $6. Bonus: it's a hybrid primer and setting spray. Love that!